As some of you may know, in addition to running a startup and writing about travel here on #Seat31B, I also have a fairly serious hobby as a DJ. By "fairly serious" I mean that I own enough PA and DJ equipment to keep two stages full of happy people dancing all night, and I also play myself (typically the chill, lounge and psychill genres). Things got so much out of hand with my hobby a few years ago that I actually own a full-size 15 passenger van (with the seats taken out) that I needed to convince my insurance company was not intended for commercial use.
One of my favorite music festivals is held in the mountains of Idaho north of Boise. It is a small gathering (with enforced limited attendance) because the space is too small to accommodate more. I am friends with most of the organizers and many of the performers, and this is the last year that the event is happening. There really is no way that I could miss it, but at $350, tickets for summer travel are quite expensive from the Los Angeles area to Boise. This seemed a perfect opportunity to use my Delta SkyMiles, because Delta just launched a lot of new service from Los Angeles to Seattle, which I guessed would open up a lot of award seats.
I guessed wrong. Delta is just as stingy with award seats between Los Angeles and Seattle as they are with every other route. There was essentially no availability at all, but–for now–Delta remains a partner with Alaska Airlines. You can only book tickets at the "saver" award level with Alaska if you're redeeming Delta miles, but there is often availability. You just have to be really flexible and search hard.
In this case, flexibility wasn't my friend. I needed to travel on a specific weekend, and I just wasn't finding anything on the Delta site. This isn't surprising–delta.com is notoriously terrible when it comes to searching for awards. Instead, I searched on the Alaska Airlines site, and I did find availability. There was only one problem: the flight times were terrible and the airport was really inconvenient.
On the 20th, there was one flight from the Los Angeles area to Boise on Alaska. It left at 7:00am for Seattle from the Orange County airport near Disneyland (SNA), and after a 5 1/2 hour layover, connected to a Boise flight via Lewiston. If I used this flight, I'd either be staying in a hotel overnight near the Orange County airport or starting my journey around 4:00 in the morning. Coming back was much better–a flight through Seattle to Burbank, which is a lot more convenient.
Delta offers a lot of flexibility in award itineraries, though. You can have both an open jaw and a stopover on award tickets. This meant that I could potentially fly to Seattle on Thursday evening, overnight there (I have lots of places I can stay for free in between friends and family),  and then continue to Boise on Friday afternoon. I could also use different airports in the Los Angeles area for my origination and departure. Last night, though, there just wasn't any inventory available–even with the maximum flexibility. This afternoon, I checked the Alaska Airlines website again. Jackpot! A seat opened up on the evening of June 19 from LAX to Seattle. All of the other seats I had found the previous day (which would line up perfectly with this itinerary) were still available, so I went off to delta.com to book my flight. Here is what it looks like: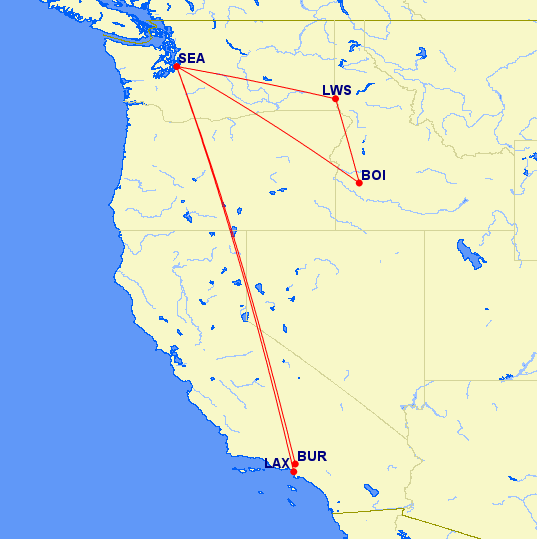 Although it is very hard to find award flights on delta.com, you can use the "multi-city itinerary" tool to feed flights one at a time to the site. You have to enter the trip segment by segment, so I entered the following:
LAX-SEA 6/19 -> evening
SEA-BOI 6/20 -> afternoon
BOI-SEA 6/23 -> afternoon
SEA-BUR 6/23 -> evening
All of the flights I had searched for showed up in the search results, as delta.com walked me through segment by segment. I picked the same flights that I had found with Alaska Airlines, and the award priced out correctly at $10.00 and 25,000 miles! This represents a value of approximately 1.4 cents per mile, a 40% premium over the usual 1 cent per mile value I assign to SkyMiles.
Is it possible to do better? Yes! You can get substantially better value–even double the number of cents per mile–using Delta miles to book Alaska Airlines award travel to Canada and Alaska (both expensive destinations), or to book AeroMexico travel to Mexico. However, there is another calculation in play, and that is what personally makes sense to me. I think it makes economic sense for me to spend $10 plus some hard-to-use points to enjoy a music festival in Idaho, but it makes approximately zero economic sense for me to pay $350 to do the same thing. Additionally, the Delta partnership with Alaska Airlines is very rocky. There is no guarantee that it'll be easy–or even possible–to use SkyMiles to fly on Alaska in the future. And finally, it's hard for me to book round-trip itineraries given my personal travel patterns. I am flying on a lot of one-way and multi-city itineraries lately, which aren't generally possible to book with Delta awards.
The upshot? I'm going to have even more fun in Idaho this year knowing that I got there for free! 🙂