In an unusual departure from my usual Seat 31B, I am sitting in the British Airways lounge in Seattle waiting for a delayed flight. I am on my way to The Netherlands to participate in my graduation. On Friday, I'll officially be an MBA!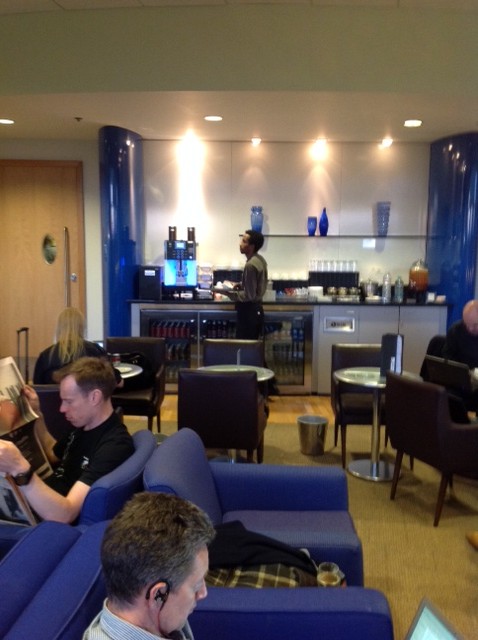 Ordinarily, I don't fly in business class. It's almost impossible to book it at the "saver" or "low" award level, and even if you can, it's not particularly good value. This is especially true on British Airways, which requires payment of a fuel surcharge ($331 in my case) which can sometimes approach the cost of a ticket. In this case, it was the best deal I could find. Paid tickets are incredibly expensive right now (a one-way in economy class is going for around $800 from Seattle, even on Icelandair) and no award space was available in economy class. Using my Aadvantage points, I was able to redeem at the "saver" award level in business class. On the bright side, I will be very well rested for graduation.
This time, I will be traveling around the world on a combination of British Airways, Aeroflot, Cathay Pacific and Alaska Airlines. This trip will be entirely in economy class except for SEA-LHR-AMS. I will also note that Russia just invaded and annexed Ukraine and I will be flying through Russia without a visa, which is going to make matters really interesting. The total cost of the trip was $1174 in paid fares, taxes, fuel surcharges and booking fees.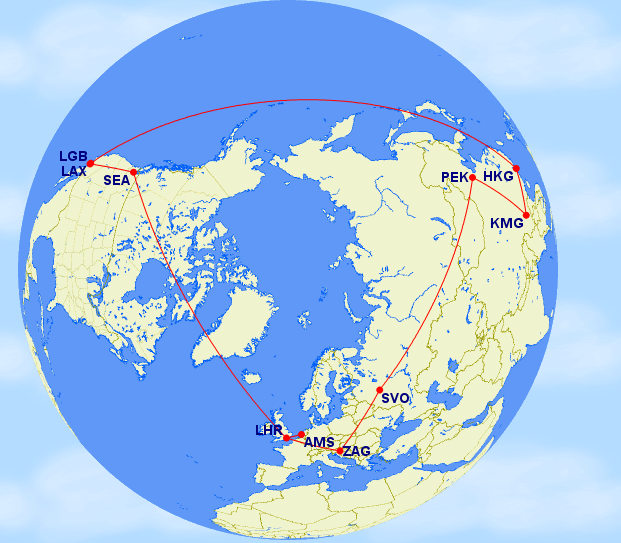 SEA-LHR-AMS: 50,000 Aadvantage miles (earned from a single Aadvantage Citi credit card signup, annual fee waived and $3,000 minimum spend) plus $331 in taxes and fuel surcharges. Club World business class
AMS-LGW+LHR-ZAG: $163 paid fare on British Airways. This fare is eligible to earn me 1,383 Alaska Airlines Mileage Plan miles.
ZAG-SVO-PEK: $530 paid fare on Aeroflot. This low fare, amazingly, earns 100% mileage credit on Delta SkyMiles. I will earn 4,773 miles. The only catch is that I have to transit Russia with no visa in the midst of a Crimean invasion, and also amid very frosty relations with both Europe and the United States. My mother isn't thrilled I have chosen to do this.
PEK-KMG: I will transfer ICBC points earned through my American Express card to my Hong Kong Airlines account, and redeem them for a domestic intra-China ticket from Beijing to Kunming, Yunnan. This has to be done in person when I arrive in Beijing. The redemption fee, as best I can tell, is zero! Now that's the kind of price I like.
KMG-HKG-LAX: 30,000 Aadvantage miles (earned for free by signing up for an Aadvantage Visa to join my Aadvantage MasterCard, annual fee waived with $3,000 minimum spending requirement) plus $71 in taxes and booking fees. Note that I won't even be realizing the full value of the award on this trip, because I added a free one-way to New York later this summer on the same award.
LGB-SEA: $79 paid fare on Alaska Airlines. This will earn me 965 Alaska Airlines Mileage Plan miles.
I would have paid about $1200 for a round-trip ticket from Seattle to The Netherlands in economy class. By taking advantage of miles and points, I am flying all the way around the world for around the same price and 1/3 of the trip will be in British Airways Club World, one of the best business class services in the air. This is the beginning of an epic two month adventure, and it's going to be amazing!