Churchill, Manitoba has been on my bucket list ever since I first spotted it on a map as a kid. It's in the Canadian sub-arctic, located on the shores of Hudson Bay, and is served by both air and rail (a rail line making it as far north as Churchill is incredibly unusual). There is, however, no road, making this a challenging location to visit.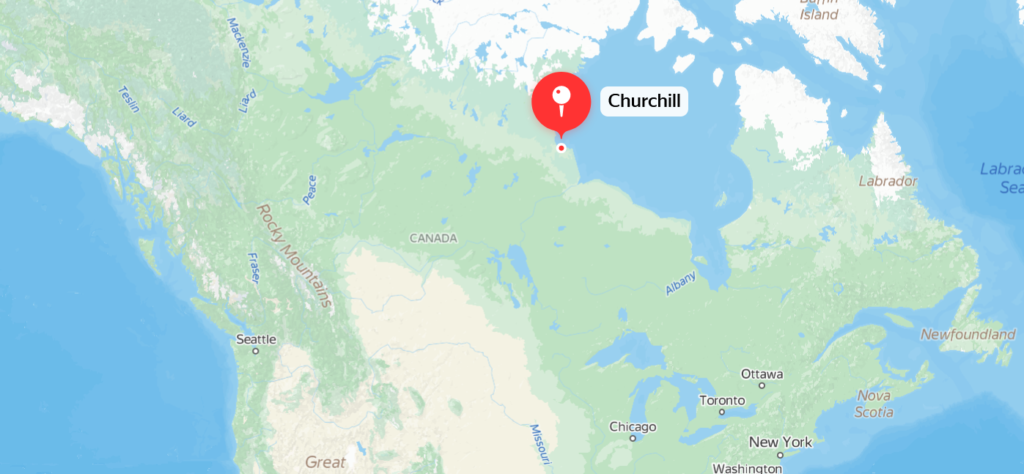 Why visit? It's one of the world's most accessible places to see polar bears. Hudson Bay freezes earlier than other locations near Churchill because the Churchill River dilutes the salt content. This makes the bears happy, because they're able to get out onto the sea ice and hunt seals earlier than in other locations. Polar bear season runs from mid-October through mid-November, and it's easier to spot polar bears during this time than in any other time and place in the world. Of course, this also means a lot of visitors to Churchill during a compressed time frame, which makes this a generally expensive destination.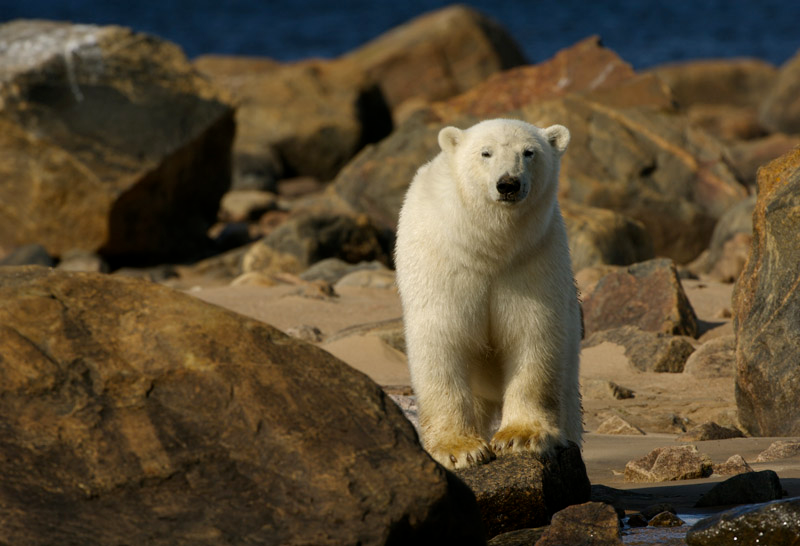 Most visitors to Churchill book with a tour group. However, this is a decidedly upmarket destination, and tours cost upwards of $7,000 (often plus airfare). That's obviously out of my budget so I decided to try to visit Churchill "Seat 31B style" and see just how far I could make my budget stretch. I figured that it would be more possible in 2022 than in other years, because when I booked the trip (in May), the Canadian border was only barely open, crossings required the ArriveCAN app, and there was still a ton of uncertainty in Canada about the COVID situation. In May, enough was moving in the right direction to start making serious plans.
The first thing I needed was a way to get to Churchill, and that is typically the hardest part. You have only one choice of airline: Calm Air. They fly from Winnipeg (and only Winnipeg), and you can't book an award ticket to Churchill on a single itinerary using points, or for that matter, online at all. You can use Aeroplan points to book the flight from Winnipeg to Churchill over the phone on Calm Air (priced at 15k points roundtrip), plus a whopping fuel surcharge – it was $330 in Canadian dollars. When can you go? Theoretically, anytime: Calm Air makes two seats available per flight for Aeroplan members. In my case, the only dates available with points during polar bear season were the exact dates that tundra buggy expeditions weren't available (there are three companies that operate these specialized vehicles which travel in permitted areas). I went ahead and grabbed the seats, hoping for the best.
The second thing I needed was a place to stay. There are very few options, so I swallowed hard and booked with Sarah's Dreamhouse which proved to be an excellent decision. There is a very strict cancellation policy (which is understandable given the heavy demand) and prices during polar bear season aren't cheap, but they're less expensive than the alternatives. I ended up shelling out nearly USD$600 for 3 nights. This broke my "under $100 per night" general rule, but there just isn't anything cheaper in Churchill (unless you want to try to sleep in the railway station). Given the limited number of places to stay and the heavy demand during polar bear season, I was really optimizing for any accommodations being available at all, so the fact that the lowest priced accommodation was available was a huge bonus.
The final thing I needed was positioning flights to Winnipeg for my flights to and from Churchill, since I couldn't do the whole thing on a single Aeroplan ticket. It's not always a great deal to use points for flights, and this was definitely the case here. The reason for this is that a low cost airline is competing on the route, and Westjet and Air Canada offer competitive fares–but only in basic economy (I paid less than USD$50 for my Winnipeg-Vancouver flight on Westjet). Both tickets I bought were basic economy fares, flying with Air Canada from Vancouver on the outbound, and with Westjet from Winnipeg on the return. I wasn't able to comfortably route from Vancouver on the same day, due to the 10:15am departure from Winnipeg, so I booked the Vancouver-Winnipeg flight a day earlier. This meant that I also needed a transit hotel. I booked the Holiday Inn – Airport West, breaking my $100 per night rule here as well (by 50 cents), which proved to be an excellent choice because an airport shuttle is included (many properties have eliminated these). This saved me about CAD$20 each way to and from the airport, not only making this the lowest cost option but also being located directly across the street from restaurants and a Shoppers Drug Mart.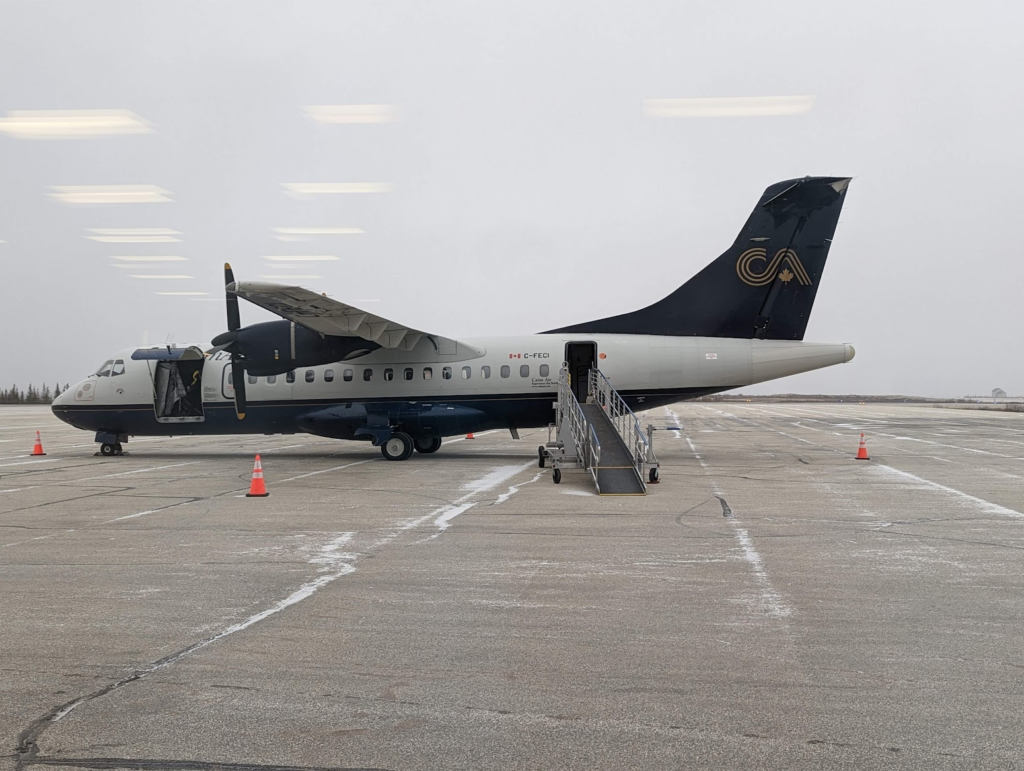 Having secured flights and a place to stay, I started looking at tours, but it was really hard to decide what to book. I decided I'd more or less figure things out when I got there. This is sometimes a great idea and sometimes a terrible one, but it worked out really well in my case. My host in Churchill picked me up at the airport and a few minutes later, I was wandering around town. I ended up spending my first day following–on foot–tour buses full of $7,000 per head tourists all dressed in identical blue parkas, and just walking into places in town the groups had just left. I saw the Eskimo Museum, the Churchill Visitor's Centre, and Polar Bears International and I pretty much had all of them to myself (the staff were all super friendly). All of these were also free and it was a great way to get situated on my first day. I capped off the evening by doing some grocery shopping at the Northern store.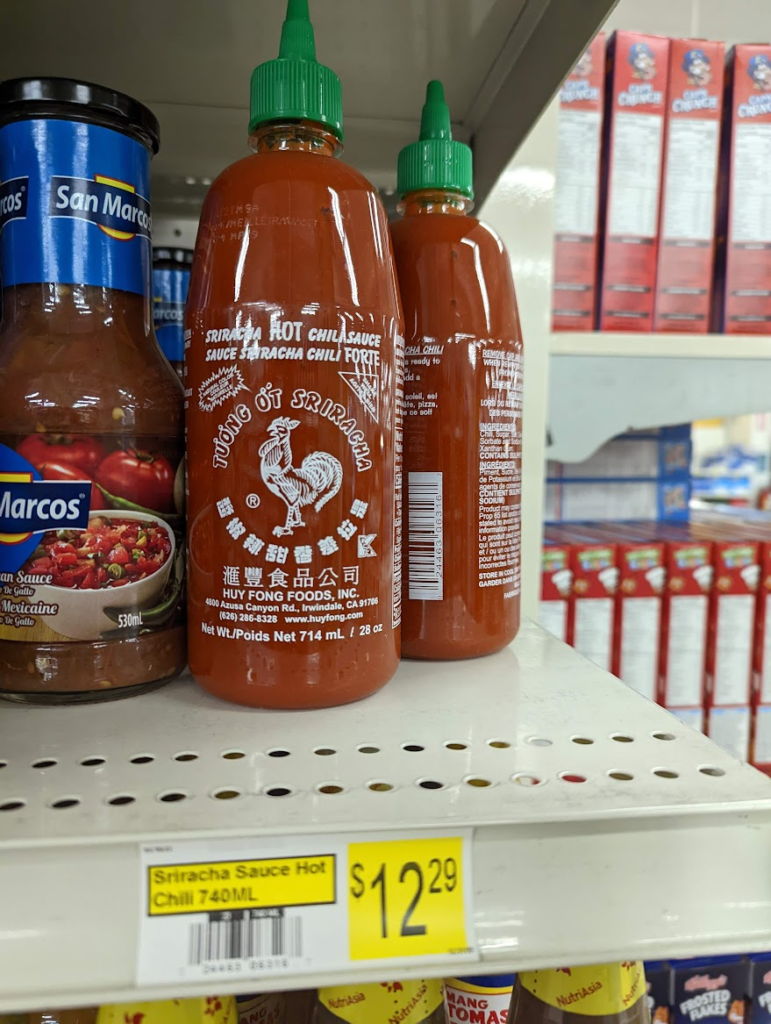 Every time I visit the Arctic I'm caught off guard by the high prices, and Churchill did not disappoint with grocery costs approximately 3x those in Vancouver. Since Sarah's Dreamhouse has a kitchen, I was able to cook for myself. Restaurants in Churchill aren't bad, but they are set up to serve tour groups making them crowded and offering limited menus. I only ate one restaurant meal the whole time I was there. There are two grocery stores in town, the Northern store and the Tamarack Market, and Tamarack has generally lower prices and friendlier service (but a much more limited selection). They also have an in-store bakery and the baked goods are excellent and reasonably priced (try the cinnamon rolls, hot out of the oven). They also have pretty good deli sandwiches, at prices that aren't too crazy.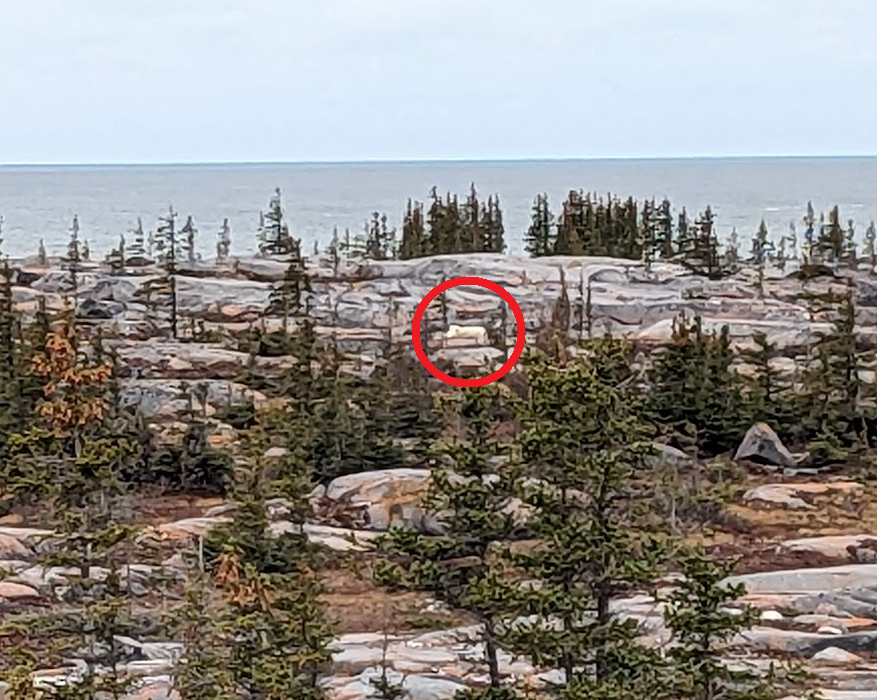 On the recommendation of some visitors who were also staying at Sarah's Dreamhouse, I booked a half day tour with a company called Sub-Arctic Explorers. The guide was great–he was born and raised in Churchill, owns the local propane distributor, and also works as a tour guide on weekends (it was my impression that he enjoys the outdoors anyway, so guiding is a great excuse to do what he loves). This led to my first (and only) polar bear sighting of the trip! Polar bears are hard to spot because they like to hang out on the rocks, many of which are covered in white snow, and they're white. When they lie down, it's very hard to see them.
I spent Saturday afternoon at the Churchill Northern Studies Centre, which is a nonprofit lab facility for researchers located on the grounds of a former military rocket base. It's a similar setup to the Antarctic facilities operated by the US Antarctic Program. I booked their first ever tour for the general public (they do give tours to school groups, tour groups etc.) and given that they weren't really sure what everyone would be interested in, we were pretty much given the run of the place. This was capped off by a lecture by the executive director of the facility, himself a polar bear researcher and a well recognized local expert. It cost CAD$63 for the tour, including transportation, and it was totally worth it! I knew nothing about the research station before my visit, and simply booked the tour on their Web page at the last minute when I noticed they'd be offering one at a convenient time.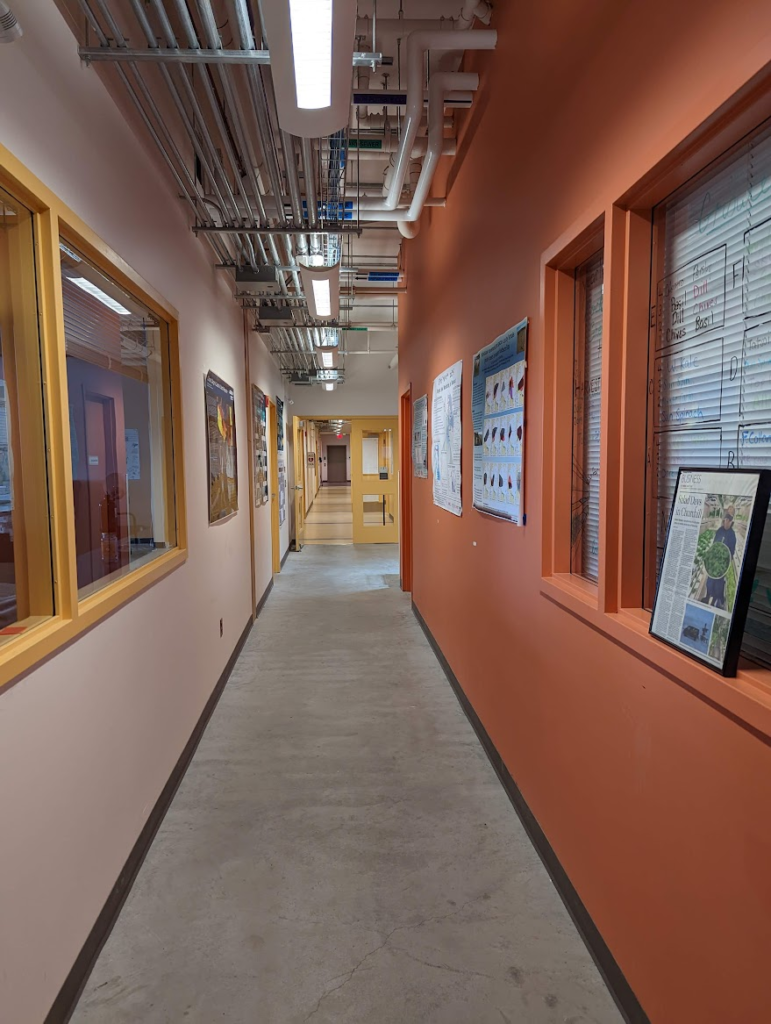 I rented a car on Sunday, and drove around looking for polar bears (taking an hour out during the day for a polar bear safety lecture offered by a local park ranger and game warden, who assured me that my plan was a pretty bad idea, and another hour at Cape Merry, where I was given a red carpet tour by two armed polar bear guards and two Parks Canada rangers). It is perhaps fortunate that I didn't find any bears on my own; as it turns out, they are apex predators and they'll kill you for fun. None of the locals go out in bear country unarmed. It was super fun to drive around Churchill in a Jeep though, tackling roads where tour companies wouldn't be able to drive in their vans. And then Monday, it was time to fly back! That was an adventure in and of itself, and one that I'll write about in a future installment (suffice it to say that the flight I was supposed to be on was cancelled, and I would be stuck in Churchill right now if I hadn't been proactive).
Is travel with miles and points really free? Not even close! My trip cost me about $400 per day even after spending my points for the flight. There is just no way around Churchill being an expensive destination. Now, is the ~$1600 I spent more than people spend in more conventional locations? Definitely not–you'd easily spend this at a Disney park or in Las Vegas, and far more than this in Hawaii. Still, it's important to maintain some perspective on this. When you're traveling with miles and points, you'll spend a lot more on your trip than just the flight. Here's a breakdown of what I spent: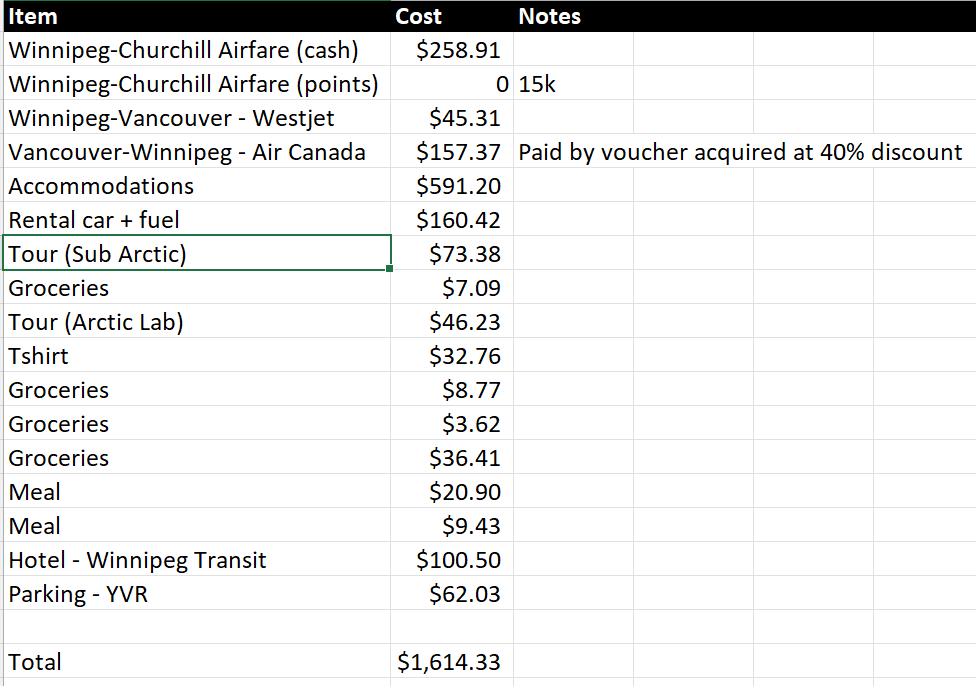 Overall, I'm really happy to have achieved a "bucket list" travel goal. Ever since I was eight years old, I have been fascinated by Churchill. It was every bit as incredible as I was hoping it would be, despite not being able to take a "tundra buggy" tour (these aren't the only way to see polar bears!) and not planning very much in advance. If I had carefully planned every detail, I would have missed out on a lot of serendipitous discoveries. That being said, even though everything worked out for me, it's easy for things not to work out in a place like Churchill. You should probably go in with at least some sort of plan, but in the Far North, planning trips by yourself will save you a lot of money versus booking through a tour company.