Canadian startup low cost carriers have a checkered history in Canada. The first low cost Canadian carrier I flew was Canada 3000, which went out of business in 2001.

Many other attempts at low cost carriers have failed: Zip, Zoom, and Jetsgo. Even Air Canada couldn't make the concept work, and retired their Tango subsidiary (although their cheapest economy class fares are still called "Tango"). The low cost carrier concept stubbornly keeps failing over and over in Canada, which is hardly surprising given that airport operating costs are some of the highest in the world (a report to the Canadian Senate in 2012 detailed myriad structural issues, and essentially nothing has been done or fixed since–in fact, operating costs have only gotten higher).
Nevertheless, startup airlines in Canada continue to open, fly for awhile, and then abruptly fail (usually leaving passengers stranded). The shakiest of these is currently Flair, which apparently didn't have the money to take delivery of 11 new Boeing jets it had ordered, and which recently had four of its jets seized for non-payment of leasing fees. The 20% on-time performance rating for their Abbotsford-Calgary route is fairly representative.
So, did I book with Flair? Of course not! They weren't the cheapest, and this article is about the cheapest airline in Canada. As it turns out, that's tiny airline startup Lynx Air, which is currently flying a fleet of six aircraft. I had never heard of Lynx, but they popped up when I ran a search on an online booking site. I instead booked directly with the airline on their sketchy-looking Web site, and got back an email confirmation that looked like a phishing scam: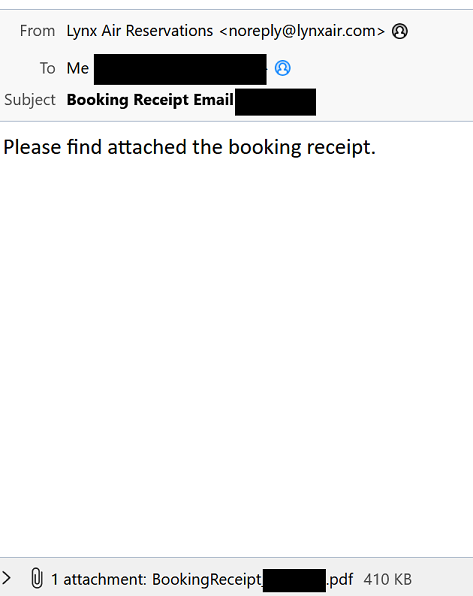 However, clicking on the attachment revealed an itinerary that looked like it was from circa 2003, using a random assortment of fonts that looked like a ransom note, and confirming that I had a roundtrip ticket to Calgary over March break weekend for CAD $168.00.

This is virtually unheard of; other airlines were charging well over $300 each way. I'm not sure whether Lynx forgot that it was a school holiday or what, but I really wasn't going to question it.
The fare breakdown was as follows:

That's right, roughly half of the roundtrip airfare went to airport fees, and that's before the airline's share of the operating costs. Lynx would definitely be losing money on me.
"But wait," you might say, "the headline says you paid with Aeroplan points. How did that work?" Well, I have the Chase Aeroplan credit card. A few months ago, Chase was offering a 30% bonus to transfer points into Aeroplan, and if you have the credit card and transfer 50,000 Chase Ultimate Rewards points or more into Aeroplan, you got another 10% bonus on top of it. So I ended up with 70,000 points in Aeroplan. Well, in February, Chase decided to be exceptionally generous and started a promotion. You can now redeem Aeroplan points towards travel purchases (literally anything that codes as travel) at 1.25 cents per point. This meant that I could effectively spend the Ultimate Rewards points I transferred for 1.75 cents per point in value.
And that's exactly what I did, as soon as the charge posted to my Chase Aeroplan credit card account:

Was this a good deal? I think so. Sure, it's not as high as the realistic ceiling for Aeroplan points. It is, however, just below the weighted average for Aeroplan points, and in Ultimate Rewards terms, it's above the weighted average for Chase Ultimate Rewards points. And I had specific dates and times of travel that I needed (since I was going to Calgary for an event) so I had to opt for what was actually available.
More importantly, this fare was cheaper than alternatives and would otherwise be unattainable with points. While you can theoretically use Chase points at 1.25 cents per point on their travel portal, that only works for airlines that list their fares with Chase. Obscure low cost carriers like these don't show up, meaning you're only shown more expensive options.

Less than 5,000 points each way, with no money out of pocket, is an incredibly good outcome for redeeming points on a short-haul flight (especially on a flight like Vancouver to Calgary that is under 500 miles, but over 11 hours of dangerous mountain driving). And remember, I got those points with a 40% bonus. To me, this was an absolute "no brainer" of a redemption.
So how was the flight? Stay tuned for the next installment!