I lived in Beijing for three years and still have a decent chunk of my life in China, so I have dealt with a lot of Chinese paperwork. However, until last week, I had never formally applied for a visa by myself.
If you want to apply for a Chinese visa, you have to either use an agent service (I recommend http://www.uschinavisa.com/ who has provided me excellent service in the past) or you have to apply by yourself in person. Last week, I needed to be in Los Angeles for a few days, and I needed a Chinese visa, so I was able to apply in person.
The first step is to fill out the application form and assemble the required documentation. The application form is pretty complicated (and has gotten more complicated) so it's a good idea to follow the detailed instructions provided by the good folks at Best for China Visa. Triple-check everything on your application form and make sure that it is correct, and that it matches your supporting documentation. If anything is wrong or doesn't match, you will risk having your application rejected by the Chinese embassy or consulate.
If you're applying for a tourist visa, the process is relatively straightforward. You'll need a hotel reservation for the first few days of your trip (5 days is good if you're staying for a month; for a shorter trip, you need at least one night reserved). You also will need to have proof of a ticket into and out of China, or a detailed itinerary explaining how you will arrive in China if you are traveling by land. If you will fly into Hong Kong and cross into China overland, then include copies of your tickets to and from Hong Kong. Your passport must have at least 6 months of validity, and Chinese visas take up an entire page so you will also need at least one completely blank page in your passport.
There is no actual requirement to stay in the hotel you reserved or to fly on the ticket you booked when you submitted the visa application. You also don't need to travel on the exact dates that you originally submitted, as long as you enter China before the date that your visa expires, and you don't stay longer than you are allowed. Accordingly, some travelers find it more convenient to make reservations that are fully refundable and then rebook cheaper non-refundable tickets and hotel rooms after the visa has been issued. Also, a Chinese visa allows entry by any means. So, for example, if you originally planned to fly to Guangzhou but found a cheaper flight to Hong Kong instead, don't worry. You can book the Hong Kong flight and cross overland into China. The Chinese government is actually very reasonable about this and recognizes that plans can change. Chinese people love a bargain, so if you change your plans to save money, don't expect any trouble–just congratulations for your savvy.
Once you have your application form and supporting documentation, take it to the Chinese embassy or the consulate nearest you. Chinese consulates provide service based on your place of residence. A detailed list of consulates mapped to service areas is here. Technically, your application can be refused if you apply to a consulate that is different than the one that serves your area. In practice, this rarely happens if you apply by yourself without using a visa agent, but it's best to apply using an address that is within the service area of the consulate to avoid any trouble. My family owns a vacation property in Arizona which is within the Los Angeles consulate's service area, so I used that address rather than my Seattle address on my application and had no problems.
In Los Angeles, the Chinese consulate's visa applications center is located in a nondescript office building on the third floor. It is across the street from the official Chinese consulate. Look for this sign: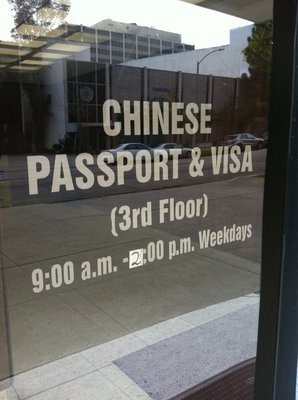 Inside, there is a ticket machine. Press the button for the service you need, and you'll get a ticket like this one: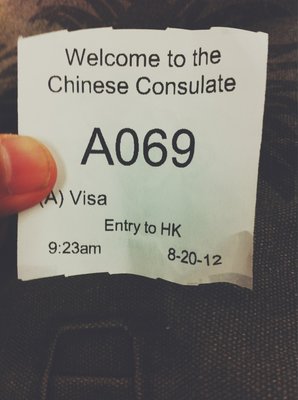 Now it's time to wait! Thankfully the TVs were switched off, rather than blaring Chinese soap operas which is usually the case in a Chinese government office's waiting room.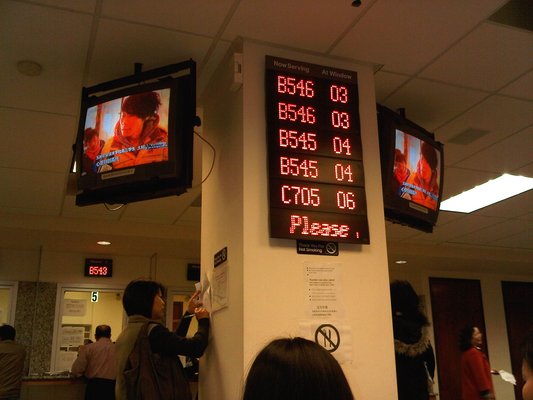 When your number is called, go to your window quickly! They only wait a few seconds and if they don't see anyone moving fast, they will go on to the next number and you will have to argue not to lose your turn. I had to run out to feed the parking meter but fortunately didn't lose my turn.
After you submit your visa application, a visa officer will review your documentation. You may get some of it back if they decide they don't need it. I brought paperwork reflecting practically my entire life's history in China (when it comes to documentation, more is usually better than less when dealing with the Chinese government). I think this helped a lot, because I was asked very minimal questions and almost all of my documentation was quickly returned with an exasperated–but friendly–admonition of "Too many stuffs!" My application and passport was accepted, stamped, and I was given a receipt and told to come back on the following Tuesday (it was Thursday). To my surprise, payment was not accepted; this is collected when you pick up your visa.
Today, I went back to the Chinese consulate. I drove a little farther and found a non-metered 2 hour parking space this time, because a visit to the consulate takes about 90 minutes. The consulate was busy but the line moved pretty fast. A single consular officer was working, but her hands moved quickly, multitasking effortlessly. I had my ID, credit card, and application receipt handy (it is a pink form), and when my turn came I was on my way in–literally–30 seconds. To my delight, I was issued a 1 year visa, multiple entries, with a 60 day maximum stay per entry. This is the best visa currently being offered to foreigners who are not married to Chinese citizens, so even though I changed my passport it seems that the Chinese government was able to find my previous record of good conduct in order to issue me with a better visa.
You need a photo ID to collect your visa, and you can only pay by credit card, cashier's check or money order. The cost is $140 for US passport holders. Cash is not accepted. Two people had to go buy a money order next door and stand in line again because they only brought cash! Also, parking enforcement is draconian, and running out to feed the meter won't save you from a ticket if an officer sees you do it. It's illegal to park for more than an hour at the metered spaces even if you pay for more than an hour. If you need to move your car, the security guards will allow you to reclaim your place in line if it is still there when you come back. It is better to drive farther away because there are some free parking spaces a couple of blocks away that will allow you to park for two hours.
Now that you have your Chinese visa, here are some tips on how to use it properly:
Enter before means that you need to enter China before that date. This can be anywhere from 3 months to 1 year from the issue date. It is usually better to apply for a visa to China around one month in advance. That way, if you aren't given a long period of validity, you will have enough time to enter China.
Entries means the number of times you are allowed to enter China prior to the "Enter Before" date. Note that if you go out from mainland China into Hong Kong and then come back, that counts as two entries! Most of the time this will either be 1 entry or M, for multiple (unlimited) entries. If you need multiple entries, be sure to justify this with your proposed itinerary, otherwise you might get only one entry and have to adjust your travel plans!
Duration of each stay means how long you are allowed to stay in China after you enter, which must be before the "Enter Before" date. This is by calendar day, not by 24-hour day! Count your days carefully (and do not forget the international date line) to make sure you do not overstay your visa. Note that "enter before" means just that–as long as you enter China before the date shown, you can stay for the number of days allowed in the duration after you enter. There is a huge fine if you overstay, which can be up to 3,000 RMB per day. In extreme cases, you can also be barred from re-entering China for 5 years. Note that unlike many countries, China allows you to leave and immediately return to start the clock on another "stay." If you have a US passport, you can enter Hong Kong and Mongolia without a visa, and many expats go on "visa runs" to these places.
No matter what the shady language school that tries to hire you off the street says, you are not allowed to work on a tourist visa. You get the fine and travel ban, not them, so they have an incentive to lie. If you decide that you want to stay and work in China, the only legal way to do it is on a visa category that explicitly allows work such as J-1, J-2, R, D or Z. Changing your visa type generally requires you to return to your home country and apply from there (although there are sometimes loopholes in applying either from Hong Kong or from within China, depending upon what you are trying to do and the strength of your employer's relationships with the Chinese government).
It should go without saying, but you need to follow Chinese laws while you're in China. Generally speaking, these aren't much different from laws in the US, with a few exceptions around politically sensitive topics. In many ways Chinese society is more relaxed than the US, but there are "red lines" you need to be aware of and you must not cross them. There have been a lot of recent incidences of foreigners doing outrageous things and behaving badly in Chinese cities, and Chinese people are generally feeling very impatient with this and are more wary of foreigners than in the past. Being friendly, patient, polite, and having a ready smile will go a long way toward having a nice trip.
If you are staying in a private home (including an airbnb accommodation), you need to register your residence with the local Public Security Bureau (Chinese police) within 24 hours. Ask a Chinese friend or real estate company for help with this, but don't ignore it: it's really important and there can be a very large fine for failing to do so. One friend who visited me in Beijing and didn't register on time was forced to write an apology letter to the police and promise never to do it again. He got off easy, because he could have been fined over $100. You will get a form proving your residence registration and you should always carry a copy of this with you, along with a copy of your passport. The Chinese police can demand to see this at any time and you can be fined if you fail to produce it. Technically you need the original (and your original passport) but the police are reasonable if you are carrying a copy, since they understand stolen passports are a big problem. Note that if you are staying in a hotel, hostel or any other licensed accommodation for foreigners, they will do the registration for you and you don't need to do anything; this is only something to worry about if you are staying in a private residence.
Two trips to the Chinese consulate, several gallons of gasoline, a full day of my time, and a lot of quarters in the parking meter saved me around $50 in agent processing and mailing fees. On the other hand, by applying in person and bringing extra supporting documents, I got a better visa than an agent may have been able to get me. Would I apply in person again? Probably not–using the services of an agent saves a lot of time, and I have already been given a "good" visa so will probably not be downgraded next time, even if an agent applies on my behalf.
If this article was helpful and you use my favorite agent, http://www.uschinavisa.com, please enter my email address tprophet [at] seat31b [dot] com as the referral during your application process. You'll pay the same for the service as you would without giving me referral credit, but with your referral, I will get a coupon good for $5 off my next Chinese visa application.