By default, I'm usually a little skeptical of crazy sale fares. Whether it's the UK in the winter (rainy and cold), the Caribbean in the summer (hurricane season) or a screaming deal to San Pedro Sula, Honduras (the murder capital of the world), there is usually a reason why they're cheap.
However, there are occasional sale fares that are genuinely crazy. Air Canada and Qantas have been duking it out for supremacy in Vancouver, an airport a few hours up the road from me. They have been running some truly crazy sale fares. Last month, it was a $528 fare from Seattle to Melbourne on Air Canada. And on November 30th, I scored a $560 fare from Vancouver to Sydney on Qantas.
Now, this was enough to get me excited. While Air Canada operates a miserable 10-across configuration in economy class, Qantas has a more comfortable (17.5″ width, 31″ pitch) economy class cabin on its A380 aircraft. I was able to book my flights on these aircraft. Granted, without paying extra, I'll likely be assigned an inside middle seat. Also, it's a bit of a hassle for me to fly from Vancouver because it requires crossing the border. However, for the price and mileage earned, I'm willing to do it. A wide range of dates were available. I ended up picking off peak early Austral spring dates (Labor Day weekend) to take advantage of the US holiday, but spring weather in the northern part of Australia was pretty nice.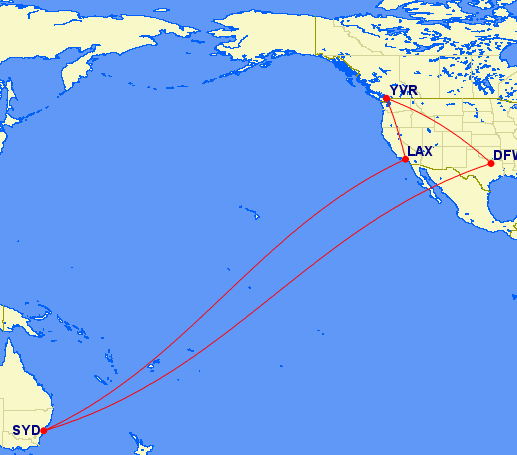 Mileage Earning – Choose Your Program Carefully

Qantas operates their own frequent flier program. However, crediting these flights to their program wouldn't have been good value. First of all, the Qantas program is a very expensive program with which to buy tickets – it requires more points to book flights using Qantas points than with most other points. You might think that such a program would make it easier to earn points, but this isn't the case. If I'd credited to Qantas, I would have earned the following points:
Vancouver-Dallas: 0 points
Dallas-Sydney: 4,900 points
Sydney-Los Angeles: 4,200 points

Los Angeles-Vancouver: 0 points
I would have received credit for just over half of the miles flown, in a program that is expensive and hard to use. No thanks!

Using the AAdvantage program of Qantas' Oneworld partner American Airlines might seem, on the surface, to be a better bet. They would at least offer credit for the Vancouver-Dallas leg, and their award chart is a lot less expensive. However, the mileage earning is much worse:
Vancouver-Dallas: 439 AAdvantage miles
Dallas-Sydney: 2,145 Aadvantage miles
Sydney-Los Angeles: 1,872 AAdvantage miles

Los Angeles-Vancouver: 0 AAdvantage miles

What's the best option? Alaska Airlines Mileage Plan. The fare is in "O" class, meaning that it earns 100% credit: one Mileage Plan mile per mile flown. On Qantas. Unfortunately "On Qantas" is the operative term. This fare is a very good example of how airlines play games with mileage earning on codeshare flights.

For this particular itinerary, the flight from Vancouver to Dallas is operated by American Airlines. International flights on American do allow for mileage credit on Alaska Airlines, but for this particular class of service, there is only a 25% mileage credit. Additionally, the flight is operated by American on a Qantas flight and ticket number. In practice, Alaska will typically credit this as if it were an American flight, but technically, they only have to credit Qantas flights that are actually operated by Qantas. I will most likely earn 439 miles for this segment.
Similarly, for the return flight from Los Angeles to Vancouver, Alaska and Westjet aren't partners. However, Westjet and Delta are partners. Westjet was willing to let me attempt to claim Delta mileage credit for this segment. If it goes through, I'll get a minimum of 25% and a maximum of 100% SkyMiles credit for this segment, depending upon which fare class Delta recognizes. Delta is pretty good at denying mileage credit, so I am not expecting any, but it's possible that I'll see something. So, here's how crediting to Alaska Airlines Mileage Plan will look:
Vancouver-Dallas: 439 miles (probably)
Dallas-Sydney: 8,578 miles

Sydney-Los Angeles: 7,488 miles
Los Angeles-Vancouver: up to 1,081 SkyMiles (>50% chance of no credit).
I will receive a guaranteed 16,066 Alaska Airlines Mileage Plan miles. It's not unusual for me to receive 2.4 cents per mile in value for these points when I redeem them, meaning that the points are worth $385.58. So, factoring this in, I am effectively paying $174.41 for a roundtrip flight to Australia.
I'm not stopping in Sydney, by the way. This is just a positioning flight. My next post will be on where I'm headed next!