If I haven't said it enough before, I will say it again: it can be really tough to find award seats priced at the "low" or "saver" levels. This is particularly true if you're traveling to a popular destination during a popular time on a popular day. There is always plenty of availability to Fairbanks or Minneapolis in the winter, but not so much to Hawaii.
Airlines don't exactly make it easy to search for award space either. Consider Delta. The only flexibility they offer in award searches is by date, and they will often only display their own flights in award searches (rather than partner award space that could be available at a lower mileage redemption level). This means that if you're searching for award space in cities with co-terminals, you could miss out on a whole host of options.
What is a co-terminal, you may ask? In some cities, there are multiple airports and these are all considered the same airport for the purpose of calculating a fare or award (e.g. they are not considered an "open jaw" which may result in a higher fare or not be allowed under award rules). This is really important when it comes to Delta awards (along with certain other airlines such as Korean Airlines) which require a roundtrip purchase. So, if you pick your co-terminals correctly, you can fly into one airport and out of another and it's considered a roundtrip fare to the same cities.
Here is an example for a November flight from the Los Angeles to the New York areas. When I search for availability between Burbank and Newark on the Delta Web site, these are the options that are presented:
As you can see, it's a couple of awful itineraries that take pretty much all day and cost 32,500 miles, which is considerably more than the 25,000 mile "saver" award level. The Delta Web site only searched for the exact cities I input. This was, I'm sure, for my convenience.
Now let's try the same search on the Alaska Airlines Web site:
For this particular itinerary, there were many, many more options available on the Alaska Airlines Web site than the ones I selected here. However, you'll notice a difference. The outbound flight is an Alaska Airlines flight with a conveniently scheduled connection through Seattle, and it is exactly from Burbank to Newark. However, for the return flight, there isn't any availability from Newark to Burbank. Instead, I need to use the co-terminals of JFK Airport in New York and LAX Airport in Los Angeles. Neither of these would be my preferred airports in these particular cities, but because the flight is a non-stop flight, it more than makes up for the extra time spent on the ground.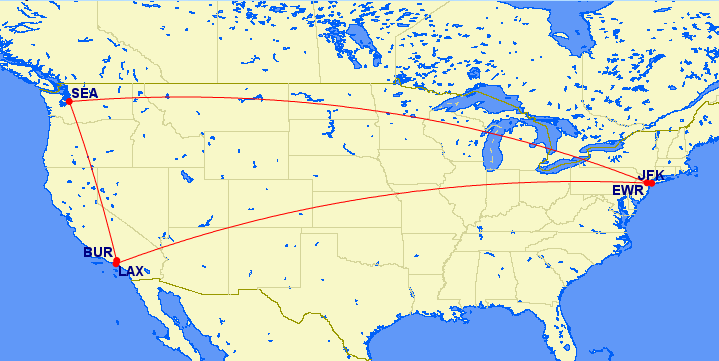 "That's fine," you might say, "but I have SkyMiles and need to book these awards on the Delta Web site. So how does this really help me?" Fortunately, if you know the exact flights that you want and their availability, you can usually book them on the Delta site using the multi-city search tool. I described in detail how to do so in this post, and for this sample itinerary the same technique worked just fine:
What cities are considered co-terminals? It depends on the airline you are flying. Most airlines operate under similar rules, though. Here is a list of cities that United Airlines considers co-terminals:
BWI-WAS (Baltimore, Dulles and Washington DC)

FLL-MIA (Fort Lauderdale and Miami)

FLL-PBI (Fort Lauderdale and Palm beach)

MIA-PBI (Miami and Palm Beach)

LAX-ONT (Los Angeles and Ontario)

LAX-BUR (Los Angeles and Burbank)

LAX-SNA (Los Angeles and Orange County/Disneyland)

ONT-BUR (Ontario and Burbank)

ONT-SNA (Ontario and Orange County/Disneyland)

BUR-SNA (Burbank and Orange County/Disneyland)

NYC-EWR (New York LaGuardia, New York JFK and Newark)

NYC-HVN (New York LaGuardia, New York JFK and New Haven, CT)

NYC-HPN (New York LaGuardia, New York JFK and White Plains, NY)

NYC-ISP (New York LaGuardia, New York JFK and Islip/Long Island, NY)

EWR-HVN (Newark and New Haven, CT)

EWR-HPN (Newark and White Plains, NY)

EWR-ISP (Newark and Islip/Long Island, NY)

HVN-HPN (New Haven, CT and White Plains, NY)

HVN-ISP (New Haven, CT and Islip/Long Island, NY)

HPN-ISP (White Plains, NY and Islip/Long Island, NY)

OAK-SFO (Oakland and San Francisco)

OAK-SJC (Oakland and San Jose)

SFO-SJC (San Francisco and San Jose)

Co-terminals are really useful for finding award space, but they also often work for paid fares. Suppose there is a really great sale fare, but it's sold out for the dates you're checking. Before you give up and pay a higher fare, check whether a co-terminal is available. If a fare is sold out to New York JFK, try Newark, LaGuardia, Islip, New Haven or White Plains. You might find that there is still availability to smaller and less popular airports.
Co-terminals also exist outside of the United States. For example, Heathrow and Gatwick airports in London and Narita and Haneda airports in Tokyo are considered co-terminals by most airlines. If there is more than one airport in the city where you are visiting, it's worth checking whether a nearby airport might qualify as a co-terminal and including it in your searches.
Is there ever a time you shouldn't use a co-terminal? Remember that there can be considerable distance between the primary airport in a given city and its co-terminals, and public transportation may not be readily available. For example, even though Ontario and Burbank airports are co-terminals, they are 52 miles apart! In LA traffic, this can be a 3 hour journey. Look at a map and figure out ground transportation before using an unfamiliar co-terminal, or you could be in for an unpleasant surprise.