Hi! It has certainly been awhile since I posted last. I'll be posting more about how my life has evolved since 2019, but suffice it to say that two years of pandemic (which is still grinding on) has led to some major changes. I'm starting to travel again, though, because the world is opening back up again and this is a part of my life that I missed a lot. And more importantly, I'm starting to book more travel (both for myself and for AwardCat clients), which means that I'm working with frequent flier programs a lot more. These have also changed a lot in the past two years, but I have a pretty good idea of which programs I'll be using and where they are most likely to come in handy.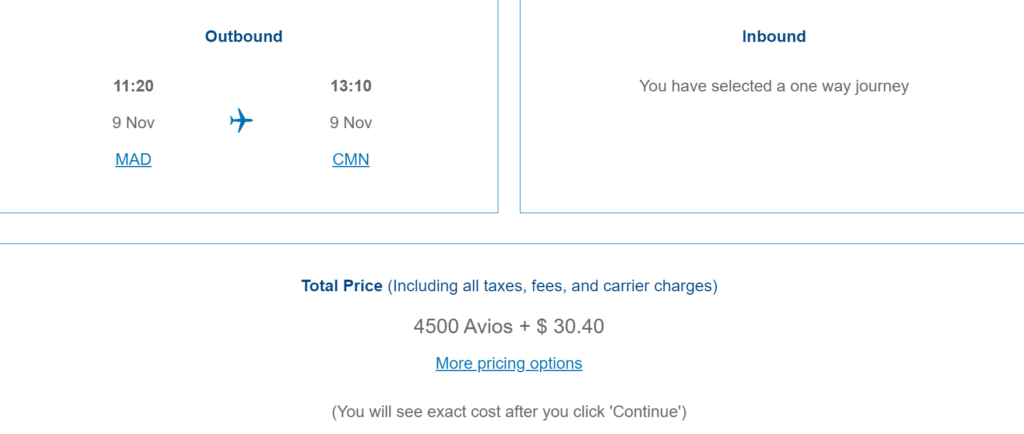 The conventional wisdom you'll read on other blogs is to never make speculative transfers from banks into airline programs. Instead, blogs encourage leaving your miles in a bank program (such as Amex, Chase, Capital One or Citi) until you want to redeem an award. This advice is usually on point, and it's what I will generally advise AwardCat clients to follow. After all, you don't have to worry about your points expiring in a bank program (as long as you keep at least one card active in the program), and as quickly as airlines are devaluing points in frequent flier programs, banks are adding greater value to their own programs. After all, banks want you engaged with them, not the airlines.
Occasionally, however, an offer will come along that–for me–is worth breaking the usual rules. Two such offers are available, and expiring today: Chase is offering a 25% transfer bonus to Flying Blue, and American Express is offering a 40% transfer bonus to Avios. Last night, I cleaned out my entire Chase account to transfer points to Flying Blue, and I transferred about 100k Amex points with the 40% bonus to Avios. I'll explain why I did it, and how bucking the conventional wisdom might be a good idea if you have specific future redemptions in mind.
Flying Blue + Westjet
One of the recent changes I made in my life was moving to the greater Vancouver area, which now makes YVR my home airport. Vancouver has the second largest airport on the West Coast with nonstop flights all over the world, but if you're traveling within North America, the two major Canadian airlines (Air Canada and Westjet) are top dog. They have the most nonstop flights from Vancouver to both US and Canadian destinations.
This presents a really amazing sweet spot for me, because Westjet partners with the Flying Blue frequent flier program, and Westjet also has extremely generous award availability at low redemption rates. For example, you can book economy class travel anywhere in North America for 14,500 points, or 17,500 points each way to the Carribbean. Unlike in the Delta program, the price doesn't go up the closer you get to departure, either. And there are no fuel surcharges or booking fees; you only pay actual taxes.

I had 28,000 Chase Ultimate Rewards points, after spending most of my points on the Dubai Hyatt Jumeirah for a forced 10 day quarantine (that's another story I'll write about later). Transferring these to Flying Blue got me 35,000 points, which is enough for a nice holiday in the Caribbean this winter. Does this make sense? Of course it does, even though I don't know exactly what I want to book right now. What's more, I have pretty much completely drained my Chase account, so I can close the Chase Sapphire Preferred when the annual fee comes due and overall stop engaging with the Chase program (which has lost competitiveness).
Avios + Iberia, Qatar, Sri Lankan and "Royal" Partners
The Avios program has been a mixed bag since 2019. They have gone through multiple rounds of devaluations (including stealth devaluations), often with no prior notice. For example, redemption rates within Asia were previously a sweet spot, but JAL and Cathay Pacific award tickets became more expensive last year. The prices even went up last year for travel on British Airways. In the meantime, although theoretical sweet spots remain on the award chart for award tickets on American and Alaska Airlines, the practical reality is much different. Both airlines have gotten much harder to book using Avios, because fewer seats are being given away to partners (this impacts not only Avios, but also programs such as Cathay Pacific Asia Miles). Wide-open availability between, say, Seattle and Los Angeles or San Francisco and Hawaii is a thing of the past. Keep this in mind when you read mainstream blog articles breathlessly espousing the large signup bonuses for Avios co-branded cards, and touting the award chart as if that equates in any way to actual availability.
Given such a recent history of bad behavior by both the Avios program and partners in the ecosystem, you might be surprised that I'd move a pretty substantial chunk of American Express points into this program. Why? Where one door closes another opens, and Avios has two new partners in the ecosystem: Royal Air Maroc and Qatar Airways. Additionally, I think Iberia, Royal Jordanian and Sri Lankan are underappreciated partners given the very low redemption rates that are often possible with these airlines.
This isn't an article about the Avios program as a whole. I'll write one of those going into the sweet spots in detail, so I'll just talk about some of my personal favorites as a representative example.
Long Haul Premium Cabin Flights On Qatar
The conventional wisdom for redeeming Avios is that they're good for short to mid haul flights in economy class, on airlines without fuel surcharges. However, they're super expensive to use for long haul flights in premium cabins, especially on airlines like British Airways with fuel surcharges.
This is now out the window when flying Qatar Airways and using Avios. Qatar recently adopted Avios as its frequent flier currency, and the award chart is much different for flights on Qatar, likely because Qatar is so focused on long haul flights. Additionally, fuel surcharges have been dramatically reduced. Given the new redemption rates, I was able to redeem 85,000 Qatar Qpoints (which transferred in 1:1 from British Airways Avios) plus $224 in cash for Qsuites on an Almaty-Doha-Los Angeles itinerary (yes, I know this is Seat 31B, but this is also almost as far as you can travel in the world. For me, paying about double the points to do it in business class was totally worth it on this route). With the transfer bonus, it cost only 61,000 Amex points which is almost totally unheard of when using Avios for this length of flight. Assuming you can find availability, it'd cost 75k points with American AAdvantage points, or a minimum of 90k points with Asia Miles.
Flights Within Africa On Royal Air Maroc
The conventional wisdom used to be to base yourself for a few months in Hong Kong and then hop around Asia using cheap Avios redemptions on Cathay Pacific, using absurdly low numbers of points for flights that would otherwise be super expensive. This was already on the way out before the pandemic (Cathay Pacific pulled partner availability inside of 14 days), and if Hong Kong and Japan ever open again, flights with Avios are now a lot more expensive.
However, where one door closes, another opens, and that door is in Africa now. Royal Air Maroc flies a ton of places in Africa, and these flights would normally (like many things in Africa) be insanely expensive. Take Casablanca to Lome, Togo. This flight costs 11,000 Avios, plus $29 in tax. It would cost 30,000 AAdvantage points for the same flight, or a whopping $582 in cash! That's a solid 5 cents per point (or 7 cents per Amex point if you got your Avios with a transfer bonus) in value for an economy class flight–and this is real value, not theoretical value based on a premium cabin seat you'd never otherwise buy.
Is this the only sweet spot with Royal Air Maroc? Nope! There are plenty of others. Casablanca is a low tax airport and Royal Air Maroc doesn't have fuel surcharges. You can base yourself in Casablanca and hop all over Europe and Africa with extremely generous award availability and very little cash out of pocket for each flight. Now, this isn't the fanciest airline with the best inflight service, but who cares when it's this cheap?
Royal Jordanian and Sri Lankan
Royal Jordanian doesn't get a ton of attention, apart from their high fuel surcharges and apparent willingness to fly through storms that would result in a cancelled flight at other airlines (that being said, their pilots are mostly former Air Force and the airline hasn't had a major incident in over 35 years). So what makes them interesting? They fly some highly unusual routes. I'm flying them from Tel Aviv to Amman, which is one of the shortest mainline commercial routes in the world. The flight would normally cost about $300 all-in, but I paid 6,000 Avios plus around $100 in taxes and fuel surcharges. It's not cheap to use Avios on Royal Jordanian, but you can get very good value for your points, particularly if you're getting the points with a transfer bonus.
Take Amman to Erbil, for example (Erbil is in the Kurdish-controlled part of Iraq, and is relatively safe to visit compared to other parts of Iraq). On a few dates I checked, Royal Jordanian is selling this short flight for $287. Alternatively, you can pay 6,000 Avios plus $135, which is a solid 2.5 cents per point–or 3.5 cents per Amex point if you got your Avios with a 40% transfer bonus.
Sri Lankan is a similar niche airline that is widely ignored due to laughably high fuel surcharges, but with good value Avios redemption pricing to otherwise expensive destinations. You really have to crunch the numbers though because they can have cash fares that are better value than paying with points. Take, for example, one route I have flown, from Colombo to The Seychelles. I picked a random October date and the flight costs 194,113 Sri Lankan rupees (which at today's exchange rates is $539.61). If you pay with points, it costs 11,000 Avios plus $255. That works out to almost 2.6 cents per point, or 3.6 cents per Amex point if you got your Avios with a 40% transfer bonus.
Iberia
Iberia gets a lot of attention for the low redemption rates, with relatively low fuel surcharges, on East Coast to Madrid routes in premium cabins. This requires moving your points into Iberia's own program and finding availability, which is super hard. Other blogs have documented this extensively (usually while hard selling Avios credit cards) and it's fine to use Iberia Avios this way, but I'd personally sit in economy class for one of these routes. It's only 7 hours from New York to Madrid. I'm willing to spend more points to sit up front on a 16 hour flight, but for a 7 hour flight, premium cabins seem like a waste of money to me.

However, how about an 13 hour flight for 51,000 Avios (that's just 37,000 Amex points with the 40% transfer bonus) in business class, or 25,500 Avios (19,000 Amex points with the 40% transfer bonus) in economy class? That's what it costs to fly Iberia from Madrid to Montevideo, which is a very nice flight to be on in November when it gets cold in Europe. Ordinarily this would be an over $800 economy class flight. Accounting for taxes and fuel surcharges, you're getting 2.9 cents per point in value, or 4.2 cents per Amex point in value if you got your Avios with a 40% transfer bonus.
When To Speculatively Transfer
Both of these transfer bonuses expire in a few hours, so if you want to hop on either of them, you should do it right now. However, the most important question is whether you plan to use the points before they will expire, and whether you think the sweet spots you're after will still be there when you want to take advantage of them. I think that the award flights I'm targeting are in obscure enough partnerships, and in dusty enough corners of award charts, that they're likely to stick around for awhile. I'm also obsessive to a perhaps unhealthy degree about this stuff (to a point where I help other people book their award travel through AwardCat) so I'm very much on top of my points balances and what is happening in award programs. I feel confident with speculative transfers to both of these programs because I use both of them regularly, and plan to redeem my points before they expire (and hopefully before they devalue).
However, I am going into this with a pretty solid idea of how I'll use the points. I wouldn't make a speculative transfer to, say, Asia Miles (since I think Cathay Pacific is likely to declare bankruptcy and may even go out of business entirely), or to Avianca LifeMiles (which has very little credibility as a program given that they block most partner inventory, and don't even offer much on Avianca). Speculative transfers are, as a general rule, not a great idea–but when done strategically, they can yield incredible value.