In mid-February, I jumped on a really good sale fare to Bogota, Colombia. It was purchased really far in advance — in fact, a year in advance. And I have to fly from Vancouver, Canada. Then again, it was a hair over $200, was heading somewhere warm when it's going to be cold in the Pacific Northwest next year, and — somehow — I haven't been to Colombia yet. So it was one of those "buy it now and figure out the details later" things.
That was, until I mentioned to my friends and family where I was going. "Colombia?!" was the typical response. "You're going to get yourself killed!" And if you don't know anything about the country, I suppose this might seem like a rational response. Venezuela, their neighbor, is on the brink of a civil war. Crime rates are higher than in the US (even Nomadic Matt got stabbed). Still, mass shootings happen pretty much every week in the US and I don't worry about getting killed when I visit the local shopping mall. Nevertheless, I figured if I planned out the trip more in advance than I usually do (I'm going to Sri Lanka in 3 weeks and only have my first hotel night booked), I'd at least be able to describe what I'm doing. And as it turns out, as I researched Colombia, one of the most interesting places is also one of the safest places in the country.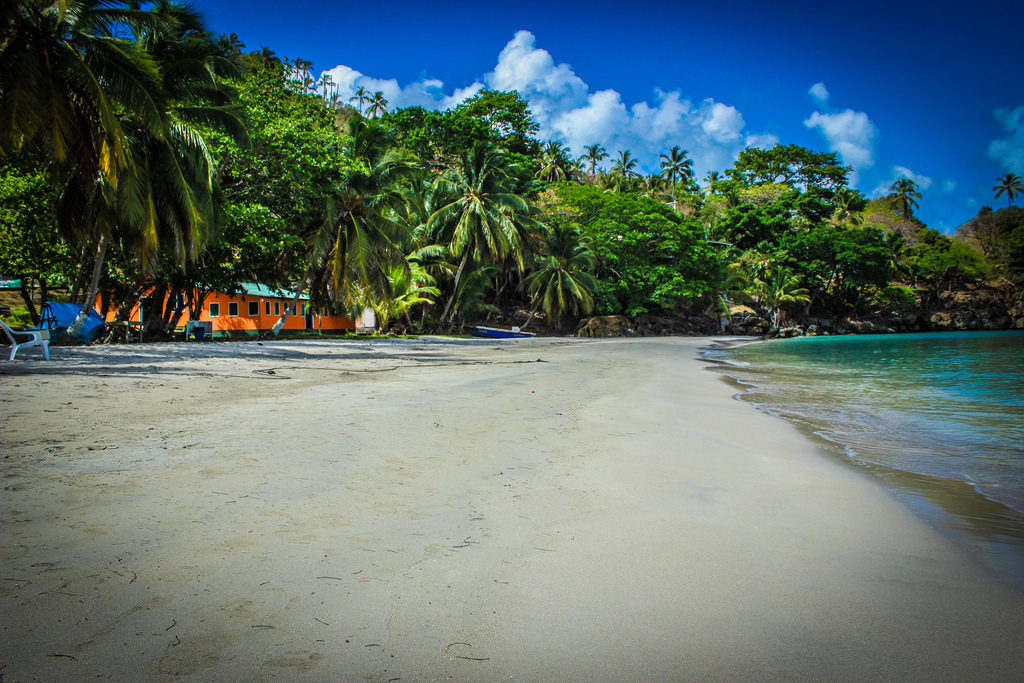 Providencia is a former English colony that is now part of Colombia. It's distinctly Caribbean in flavor, and the residents mostly speak English. It's closer to Nicaragua than the rest of Colombia. And most importantly, it's complicated and expensive to get there, making it an exclusive destination by virtue of its remoteness. I like destinations like these, and it fits nicely in with my recent theme of visiting extremely remote islands like St. Helena and Christmas Island. Of course, crime and violence on the mainland are a world away from Providencia.
There are two ways to get to Providencia, both of which require starting from San Andrés Island. If you think of San Andrés and Providencia as Colombia's version of Hawaii (which really isn't a bad way to think about it), San Andrés would be the equivalent of Honolulu except with duty free shopping. It's a big, busy tourist hub, attracting hordes of Colombian holidaymakers on package tours. Don't get me wrong, it's nice, but it's not the kind of "nice" I would spend about 20 hours of travel time and 3 flights in economy class to reach. Getting to San Andrés is an easy two hour flight from Bogota. I was able to book this for almost exactly $69 each way on Avianca. Unfortunately, this was a Web fare, sold only on Avianca's Web site, so I wasn't able to use my Chase Ultimate Rewards points to purchase it (Chase was selling the same flights for $108 each way).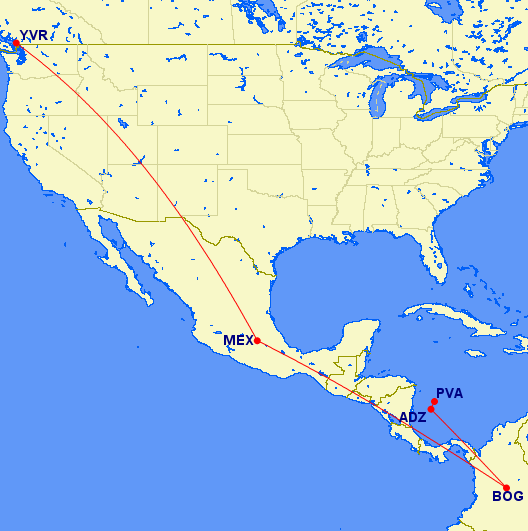 Most visitors to the region don't venture beyond San Andrés, though. Providencia is intentionally kept undeveloped in order to preserve its traditional culture. It's quiet and peaceful, making it a less interesting destination than San Andrés for fun-loving Colombians. Since it's undeveloped, transportation is limited. There is a catamaran, which, when it's sort of safe to do so, irregularly traverses the very rough open ocean. This is an intense ride. It's so rough you're pretty much guaranteed to puke; they give you seasick pills with your tickets! There is even a dedicated crew member on board who runs around collecting vomit bags. For the privilege of losing your lunch, the catamaran is also really expensive and it takes 3 1/2 hours.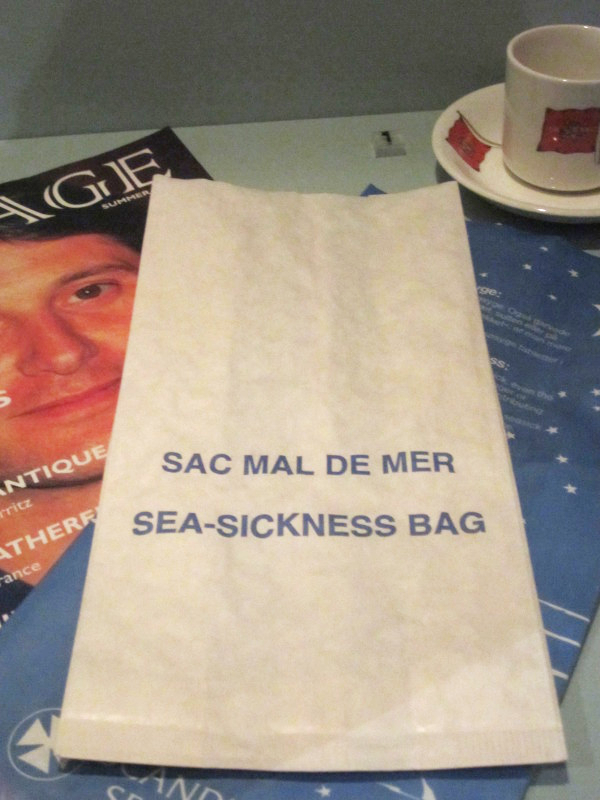 You can also fly. It costs $50 more than the catamaran roundtrip, and takes 20 minutes. The only problem is that it's almost impossible to buy a ticket. There are only about 40 seats per day available for sale, in total, to Providencia, across the two daily flights. The flights are operated by Satena, a small regional Colombian airline. Satena doesn't list their flights on online travel agencies such as Expedia. Their entire Web site is in Spanish, and even if you can manage to make it all the way through a booking, your transaction will fail (several hours later) because the credit card processor is set up to take Colombian cards, not foreign cards.
I tried to work around this by calling the airline. In Colombia, because that's the only place where they have a phone number. Unfortunately this didn't work. Everything on their phone system is in Spanish. I was able to figure out to press 1 to book a flight, I could say "Servicios en inglés, por favor" and they even put someone who spoke English on the phone, but telephone agents are only able to book flights through December, not through the end of the schedule.

Right around the time I was close to giving up, I noticed a chat control at the very bottom of the page. Usually this sort of functionality is just a stupid useless bot, but I figured "what the heck" and gave it a try. To my complete and utter amazement, a fully competent reservations agent was on the other end of the chat. I gave her my previous reservation number, which she pulled up and was able to verify. While she was unable to make alternative payment arrangements, she was able to create a new reservation. The fare was roughly the same price, but with a roughly $18 service fee added. I quickly agreed to the fee, given that it wasn't possible to complete the transaction on their Web site anyway, and the fare was still in the lowest bucket (around $90 each way, or $1 per kilometer).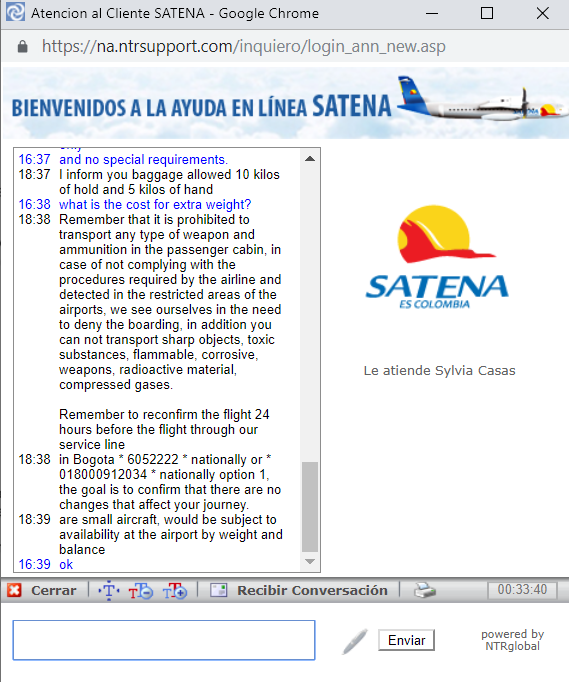 Overall, the process took a long time – more than an hour. The agent spent a lot of time trying to figure out whether she needed to create a completely new reservation or could work with the existing one. Ultimately she created a new reservation, just copying all of the information from my previous one. She then emailed me an invoice from a Colombian payment service similar to PayPal. This is the same one they use on their Web site, but when you receive an invoice via email, you can pay with a non-Colombian credit card. As soon as I paid, I sent her the transaction confirmation number. My tickets were immediately issued, and I received them in my email.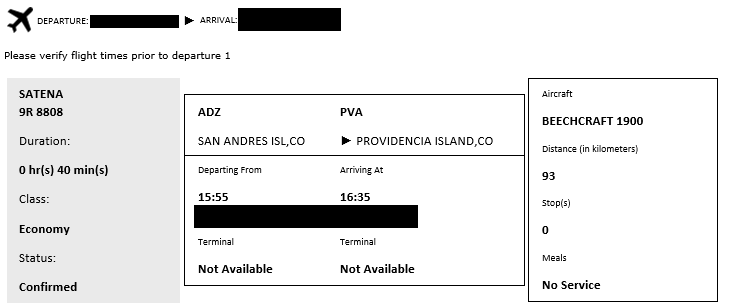 Thoughtfully, Satena provided an itinerary in English, and provided all my ticket details (including ticket number) in Spanish. At over $1 per mile, this is — in terms of cost per mile — the most expensive air ticket I have ever purchased. On the other hand, I was able to purchase it at all, which is the most important consideration here. With only a handful of seats for sale to Providencia on any given day, it's not crazy to book fully 10 months in advance.
Want to visit Providencia or anywhere else in the world? Let AwardCat help you use your miles and points to get there!