Chase pays some of the highest commissions in the blogosphere. It can be hundreds of dollars per card signup. The travel blogging community is overall pretty friendly, but nothing is played closer to the vest than highly coveted Chase affiliate links. Nothing can financially make or break a travel blogger faster than Chase either granting or revoking sponsorship. And that's why you will hardly ever see anything negative written about Chase. All you ever hear is whispers, but word on the street is Chase doesn't like criticism. They don't ever want to see anything negative. So, if you know what's good for you, and you don't want to be blackballed by Chase, then you'd better stick to the talking points.
And that's why Chase has probably been able to skate for so long on their absolute disaster of a travel portal. It's a hot mess and after having spent over 3 hours of my Seychelles vacation banging my head against the wall in trying (and failing) to book a 40 minute roundtrip flight, I am mad as hell and I'm not gonna take it anymore! And I am writing it with the full realization that it might not even get read, while potentially costing me thousands of dollars in commissions.
Higher Prices
The Chase travel portal is operated by Expedia. You would think that this means that they offer the same prices as on expedia.com, but they don't. The prices are usually higher on the Chase portal.
I'm answering a lot of questions from friends lately about flights to Beijing for DEF CON China, so I picked this route at random (but for different dates). This problem is so widespread that literally the first flight I looked at cost more. This example is for Seattle to Beijing, departing June 12th, returning June 19th.
Let's start with the price on Expedia: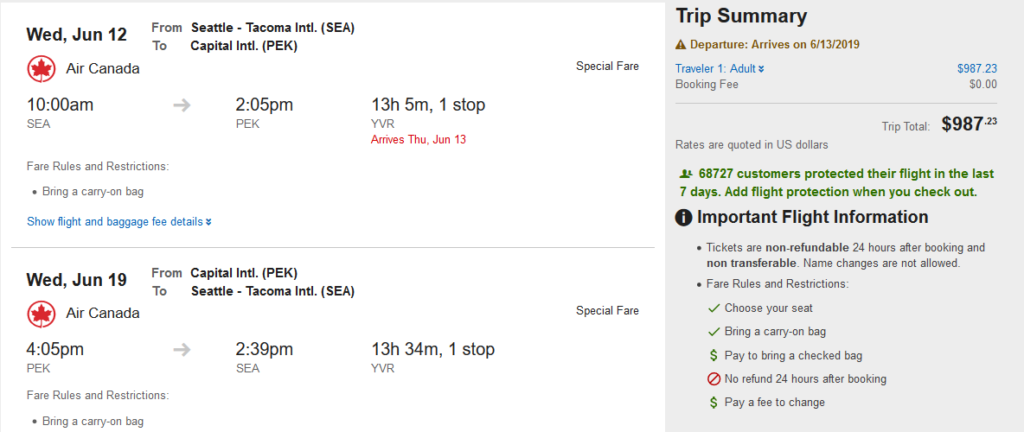 Now let's check the Chase portal: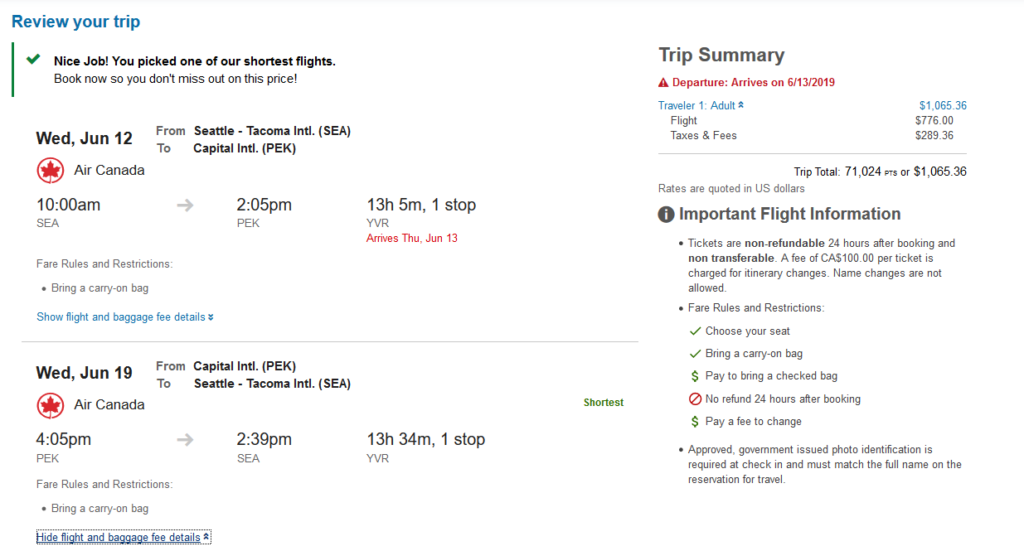 The Chase portal price for the above example is $78 more. The flight I was looking at booking today (but failed to book) between Mahe Island and Praslin Island in the Seychelles was $168.60 booked through the Chase portal, but $151.07 booked directly though the airline. While domestic US flights are generally priced about the same as the Expedia price, international flights, in my experience, tend to run about 10% more. This sucks a significant part of the value out of the points you have earned.
It's not just flights that are more expensive when booked through the Chase portal. Rental cars can be significantly more expensive. Hotels are also often more expensive.
To underscore this, I'll use a trip I'm taking in a few weeks as another example. Here's the current best rate available through the Chase portal for a car from Dollar Rent A Car: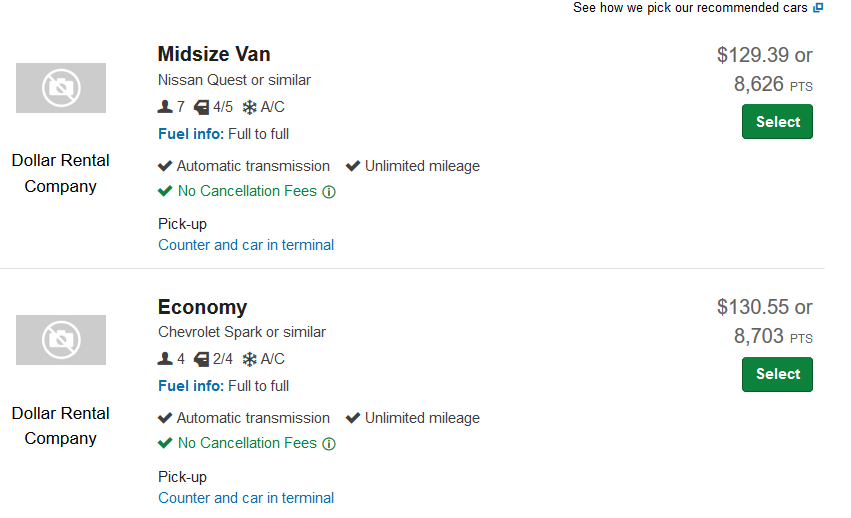 Here's the deal for a "specialty vehicle" (which will probably be a minivan) that I locked in on Priceline. At the time I booked this, cross-checking with Chase yielded an even higher price than is currently offered:

Chase jacks up the rate by almost 30%. If you have the Chase Sapphire Preferred, spending your points this way versus just going for a statement credit at 1 cent per point actually costs you money.
Not All Flights Are Bookable, Even When They Appear On The Portal:
OK, so you've decided that you'll let Chase overcharge you for a flight so you can at least spend the points, while getting 10% less value than you expected. NOPE! The site is rife with technical glitches. Here's what happened when I tried to buy a flight from Mahe Island to Praslin Island in The Seychelles. The flight appears on the Chase portal. It shows up on Expedia, too. Air Seychelles isn't some sort of budget carrier or third-tier airline; it's part-owned by Etihad and uses Etihad Guest as its frequent flier program. It's the primary airline in a popular (and high-end) holiday desination. While it was $17.53 more to book with the Chase portal, I decided that I'd overlook it.
Ha! Just kidding! I'd select my flights, put in all of my information, get all the way through to the end, and then the following error message would appear:
That leads to the next problem, which is…
Chase Travel Customer Service Is Terrible
The agents at Chase Travel (which is really Expedia) basically just use the Web site for you. If you have an error on the site, they'll have the exact same error. They're unable to deal with any situations that don't fit the script. And they are on a very strict call timer with every incentive to get you out of their queue as quickly as possible. You are a hot potato, and all they want to do is get you out of their hands.
My first call had no resolution, so I became a hot potato. Chase Travel bounced me over to the bank. Call handling metrics good! The Chase agent was patient and helpful (they're pretty good on the banking side), looked up my account, and verified that there were no issues that would prevent me from using my account. She transferred me back to Chase Travel. Call handling time minimized! The agent, after spending 3 minutes trying to convince me to "just wait a few hours and try again" had the same problem, and transferred me to something called the "legacy team." Out of their queue! The "legacy team" agent took my information, we got all the way to the end, and….
…the call dropped. At this point I was into this for close to 2 hours, and I didn't want to spend any more time on the problem, especially since the Internet connection (which slows down later in the morning–limited bandwidth on the island) was getting really choppy.
I tried again the next day. Another agent had the same problem, and tried to transfer me to the "legacy department." After a few minutes, she came back on the line and asked me for permission to blind transfer me. I called her on it, but she blind transferred me anyway–into a queue of agents in The Philippines, which wasn't the correct department. This was now my third agent in the same department ("New Platform") who ran into the exact same problem. Mind you, I'm giving my name, flight numbers, and listening to disclaimers about non-refundable tickets each of these times. Finally, the Filipino agent got someone in the "legacy department" to have a try, and that agent couldn't fix the problem either. So, in the end, hours into the problem, the agent offered a creative solution: I could book directly with the airline, and get reimbursed at 1 cent per point.
Yes, because Chase is incapable of selling me a flight, I should apparently lose the 50% bonus–which, I'll note, I pay a $450 annual fee to receive. Ultimately, the agent gave me a 5,000 point "courtesy credit" but this is now on my record. Chase has a history of "firing" customers it thinks are costing them too much and I have now poked the dragon.
Wrap-Up
It's not a secret that the new Chase travel portal is terrible. It's terrible, horrible, no good and very bad. But you're only going to read about the problems with it here.
I ultimately don't think that Chase being so thin-skinned helps them. They're positioning the Chase Sapphire Reserve up against the American Express Platinum card, a truly premium card from a company with a lot of experience offering one and the global infrastructure (including a worldwide network of local offices) to match. Chase has third-party agents in Manila working "on behalf of" Expedia, a partner who may have been selected because they pay the highest rebates. And those third-party agents have only one mandate: get you off the phone, as quickly as possible. This isn't the service I expect from a credit card with a $450 annual fee. If I want to spend the points I go out of my way to earn by putting a Chase card at the top of my wallet, I want it to "just work" as advertised. And I also don't want to play shell games with disappearing partners, devaluing points and deceptive pricing. Chase, if you're reading this–listen, I have a lot of respect for you guys. You're brilliant at marketing. But the product ultimately has to measure up, and right now, it isn't measuring up. Given the increased churn I expect this issue to cause, you're about to get kicked in the NPV of your LTV.