Most visitors to Myanmar (apart from certain ASEAN countries) need a visa. Since 2014, e-visas have been available to citizens of a fairly large number of countries, but the pricing has always been a little strange. It costs $50 for a single-entry, 28 day tourist e-visa. However, it typically only costs $20 for a single-entry 28-day visa sticker issued at an embassy.
E-Visas also have some odd limitations, although these are gradually diminishing. You can use a visa sticker to enter Myanmar at any legal border crossing. However, you can only use E-Visas at designated points of entry. So in effect, by using the e-visa, you get less flexibility and it costs more.
Nevertheless, for many people, paying an extra $30 has been worth the faster issuing time and lesser hassle versus sending your passport and an application form to an embassy. However, budget-minded Seat 31B travelers have been happy to fill out a form and drop their passport in the mail to save about $20 (factoring in postage both directions). Unfortunately, this loophole is no longer available. Myanmar has raised its visa fees across the board, and it now costs $40 for a visa sticker. When you factor in mailing costs, a tourist visa sticker now costs the same (or more) as an E-Visa.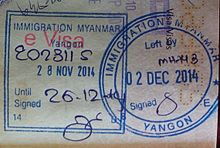 There's now no reason to apply for a Myanmar visa in an embassy unless you want a visa type that isn't available in E-Visa (e.g. multiple entry or religious visa), you want to enter the country at a checkpoint where the E-Visa isn't recognized (these are typically in border regions where travel is restricted anyway), or you need a visa in less than 3 days (express service is available at some Myanmar embassies and consulates by special arrangement for an additional charge). While I'm disappointed to see the price go up, the only thing that is really surprising is that it has taken so long to happen.