Did you ever notice that airlines don't have Black Friday specials? Actually, on Black Friday, they're busy raising prices. Accordingly, a lot of people ask me this time of year how they can book Christmas flights without breaking the bank. As with any busy travel season, airlines tend to increase fares around the holidays, and this year, fares are particularly high. There are still some tricks that you can use to get a good deal, though. Here are a few of my favorite ways to avoid overpaying for airfare during busy travel periods.
Twitter And Facebook Flash Sales
It used to be that airlines urged you to sign up for their email newsletter. They still do, but the best deals often aren't sent in email anymore. If they are, by the time you receive the email, the best deals may already be gone. These days, it's all about social media. You need to follow airlines on their Twitter accounts. This is by far the best way to get notified of deals immediately. However, if you don't use Twitter much, it's easy to miss these. Facebook also works, but simply clicking Like on a page isn't enough anymore. You also need to click the drop-down arrow next to the Like button and set the page to See First. Otherwise Facebook is likely never to show you the post. Note that even if you do this, Facebook still isn't 100% reliable.
The two US airlines that seem to be most prolific with flash sales are Alaska and Southwest but other airlines have also offered them. So, follow every airline that you're likely to fly from your home city in order to be notified when there is a sale. Also keep in mind, not all sale fares are good! They are sale fares, but don't just blindly book these on the airline's Web site without comparing first! Airlines do tend to match each others' fares, so you might find better prices or flight times on another airline.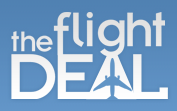 Another great Twitter account to follow is @TheFlightDeal. They'll often post unusually cheap fares that they find. While these fares usually depart from big cities with major airports (such as Los Angeles and New York), there are occasional deals to and from smaller cities as well. You never know what they might uncover so it's worth watching the deals. An incredible adventure I enjoyed in Ecuador and Mexico City started with a post from TheFlightDeal simply because it was so cheap.
Comparing Southwest
Remember, Southwest doesn't list their fares with online travel agencies like Expedia and Orbitz. You can only buy tickets directly from their Web site. It's rare that you'll find a better fare with Southwest (most other airlines match their fares), but they do allow free checked bags and other airlines charge for them. So, be sure to compare the all-in cost for the flights that you're considering. You might find that Southwest, even with a higher fare, is a better deal overall.
Using Miles
Airlines often play a game of "chicken" with fares. You'll often see an impenetrable wall of high fares listed with every airline serving a given city pair. However, the real story begins to be told when you check frequent flier seat availability. The availability of seats with most frequent flyer programs generally isn't based on the fare being charged in a given market, but how many seats the airline has already given away and how well the flights are selling (they really don't like giving away seats they could sell). You might find that a really expensive seat is available at the "saver" award level in your preferred frequent flier program. If there is more than one such seat, it's a possible clue that seats aren't selling fast at the current price (conversely, no frequent flier seat availability, or availability only at the "high" redemption rate, signals a flight with genuinely high demand). So, you could wait and hope that prices go down. I don't advise this: instead, use your miles! It's for situations like this that you have them. Also don't forget to search your award tickets as one-way tickets rather than round-trip. This is because you might find that there is availability with points one direction, but not the other. Even if you end up paying for half of your trip, using miles can save you real money.
I generally recommend redeeming points only at the "saver" level, which is typically 12,500 miles in each direction for a domestic US flight with most frequent flier programs. Depending upon the program, the value of points is anywhere from 1 to 1.5 cents each, so you can use this as a rough calculation as to where you'll "break even" booking on points. Ignore travel bloggers who urge you to optimize for first class experiences. In my mind, being home with my family for Christmas is a far better and more personally fulfilling experience than a fancy seat on an international flight.
Date and Time Flexibility
Generally speaking, you'll find the best deals for travel on Tuesdays, Wednesdays and Saturdays and you're better off booking an early departure and a late return. Starting from December 18 through January 3rd, you'll find the highest fares; this is the holiday peak travel season and airlines have little trouble filling seats at premium prices. However, there are a few off-peak dates during this period:
Christmas Day (December 25th)
December 30th
New Year's Day
If you're willing to fly on one of these dates, you can get a cheap fare.
Consider Alternate Airports
In some cities, many people seem to reflexively use certain airports. In New York, it's JFK. In Los Angeles, it's LAX. These are big airports with a lot of flights, but they may not be the airports with the best deals. Consider smaller airports nearby:
MDW in Chicago instead of ORD
LGB, BUR, SNA and ONT near Los Angeles instead of LAX
EWR, LGA, HPN and ISP around New York instead of JFK
PVD and MHT near Boston instead of BOS
FLL north of Miami instead of MIA
TPA in Florida instead of ORL, a short drive away
DAL in Dallas instead of DFW
HOU in Houston instead of IAH
BWI in Washington DC instead of DCA and IAD
OAK and SJC in the Bay Area instead of SFO
In Canada:
BLI near Vancouver instead of YVR
BUF near Toronto instead of YYZ
Other Places:
Tianjin instead of Beijing – just a short train ride away.
Shanghai Hongqiao instead of Pudong. It's more convenient!
Guangzhou and Shenzhen instead of Hong Kong, particularly for destinations within mainland China.
Tokyo Haneda instead of Narita.
London City, Gatwick, Stansted or Luton instead of Heathrow.
Rotterdam or Eindhoven instead of Amsterdam
Rome Ciampino instead of Fiumicino.
Milan Linate instead of Malpensa
Istanbul Sabiha Gökçen instead of Ataturk.
These are not the only cities in which alternate airports are possible. They're just some of the larger ones with more available flights and options. Using alternate, less popular airports often means lower fares, but these airports can also be incredibly useful when it comes to redeeming miles on inbound flights. Why? People flying to Los Angeles are less likely than the locals to be familiar with, say, Burbank airport. So there isn't as much competition for limited seats. You can use this to your advantage with a combination of one-way tickets. Traveling from Washington DC, you might depart from DCA and take a flight to Burbank. On the return, you might fly from LAX to Baltimore instead. One-way tickets give you the flexibility to mix and match, so take advantage to find both frequent flier availability and lower fares.
Consider Connecting Flights
There is usually a price premium for nonstop flights, but this becomes particularly true during the holidays. Airlines who are dominant in a given city (for example, Delta in Atlanta, American in Dallas and United in San Francisco) will charge significantly more for their nonstop flights than connecting flights on different carriers. So, if you'd normally prefer a nonstop flight, consider taking a connection if it saves you a significant amount of money. An hour on the ground in Dallas or Chicago isn't much extra time on a coast-to-coast flight, but it could save you hundreds of dollars.
Book First, Ask For Time Off Later
Let's face it: most of us can't take time off without clearing it with the boss in advance. However, if you wait to clear your proposed vacation days, that great flash sale will evaporate! Those free tickets you could score with your miles will be gone. And that perfectly timed flight at a price you couldn't believe will disappear. If you find a great deal, book it right now. Airlines allow you a full 24 hours to either cancel your ticket and receive a full refund or to hold your ticket prior to purchase (the Department of Transportation mandates that one or the other be allowed). So, book first and ask for time off later. Your boss will probably let you go if you already booked tickets (you can use this as leverage) and if she won't, you can ask for a refund. Just be sure to do it within 24 hours! If you fail to do so, your purchase is locked in.
Good Luck
Best wishes from Seat 31B for a happy holiday season. We hope these tips will get you home safely without breaking the bank!