Coming from: Part 1 – Planning
Part 2 – Vancouver-Sydney on Qantas
My flight leaving Vancouver was at 1:15PM, so I aimed to arrive by 11:00AM and made it perfectly on schedule. My NEXUS card got me quickly across the Canadian border with a friendly "have a nice holiday" from the CBSA agent (they are always so nice, unlike their US counterparts). I was running a bit early and was glad I did, because the long term parking lot at YVR is truly enormous (I got lucky and scored a space in Row 15). You then need to take the SkyTrain two stops to the airport, and for some silly reason, you have to "buy" a free SkyTrain ticket in order to use it (I didn't get tripped up by this because I'd read up in advance, but the process is absolutely not obvious).
I stopped by the NEXUS office at YVR Airport to update some information on my account. It's run by the Canadian CBSA who is friendly, helpful and efficient; I prefer dealing with them versus the usually unfriendly US authorities. I checked in for my flight on the machine, and noted to my dismay that I'd been assigned middle seats the entire way, overriding my previous aisle seat assignment on the Vancouver-Dallas flight. My NEXUS card got me into the Canadian version of TSA PreCheck (at YVR Airport, you ignore the long line, walk right to the front of it, and show your NEXUS card to the agent who pulls up the rope and lets you into the special NEXUS line). Note that you can also jump the queue and get access to a priority lane at YVR with a Visa Infinite card such as the Chase Sapphire Reserve. I then went back through US immigration using the Global Entry kiosk, which was quick and smooth. This is because Vancouver is a preclearance airport, which means that you clear US customs and immigration on the Canadian side, and when the flight arrives in the US, it's treated as a domestic arrival.
The whole thing—from entering security through "re-entering" the US—took about 15 minutes. It would have taken well over an hour without my NEXUS card. Considering that it costs only $50 to get, it's kind of a "no brainer" to get one versus Global Entry if you're eligible, even if you only take one trip through Canada a year. I don't frequently transit Canada, but when I do, it saves me hours every time.
My first stop was the Plaza Premium Priority Pass lounge at Vancouver. The Vancouver airport is actually super nice and spending time in a crowded lounge isn't usually as nice in being the rest of the airport, but I was about to take a long flight and hadn't had lunch. The Plaza Premium lounge had a really nice lunch spread: cheese ravioli, beef stew with real mashed potatoes (no reconstituted powdered junk), and some salad, fruit and other fresh stuff. The lounge was definitely crowded but I was able to grab one of the "telephone" rooms, charge up my devices (which proved to be useful), and get a little work done before my flight.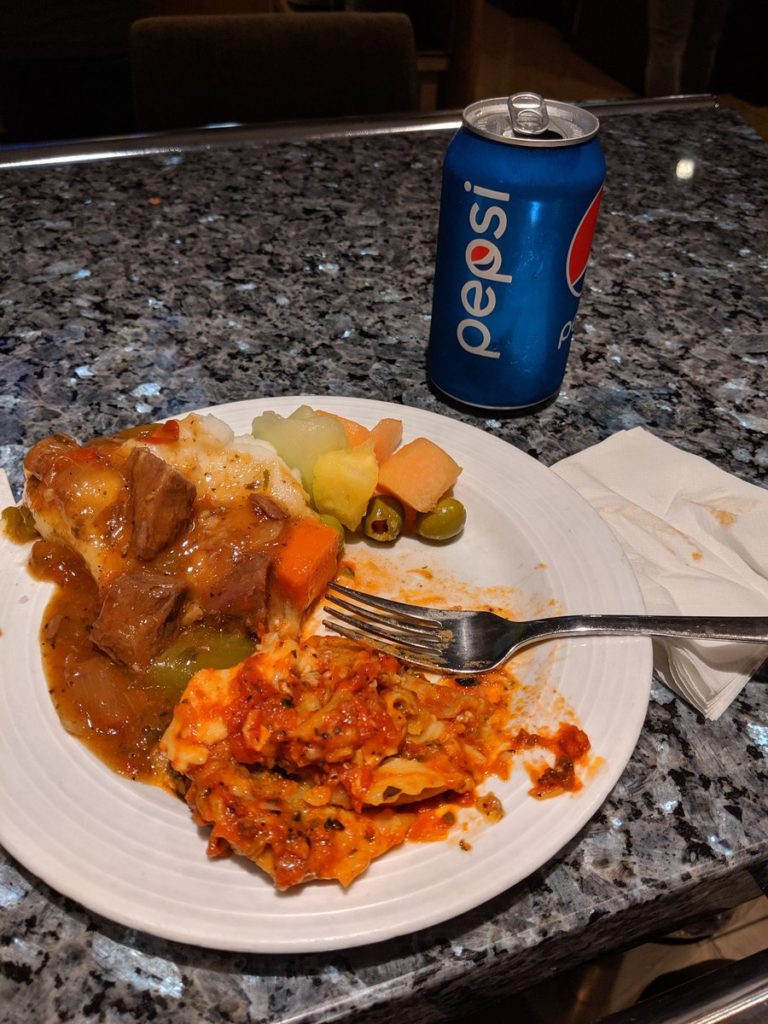 Gates for US-bound flights open about 45 minutes before departure, so I left the lounge at about that interval and talked to the gate agent to see if there was any chance of getting out of the middle seats I'd been assigned. I didn't have high hopes given that most flights leaving the Pacific Northwest during summer are jam packed and overbooked, but to my surprise, the gate agent was able to move me back into the aisle seat I had been originally assigned. She also made sure my Alaska Airlines Mileage Plan account number was entered on the reservation, which had somehow dropped off (this is a fairly common problem with Alaska Airlines' partners, so I always double-check). I credited this flight to Alaska Airlines Mileage Plan because American Airlines international flights are—in theory—eligible for mileage credit (I did, in fact, get 500 Mileage Plan miles for this flight, but I had to ask for the points to be manually credited and submit boarding passes).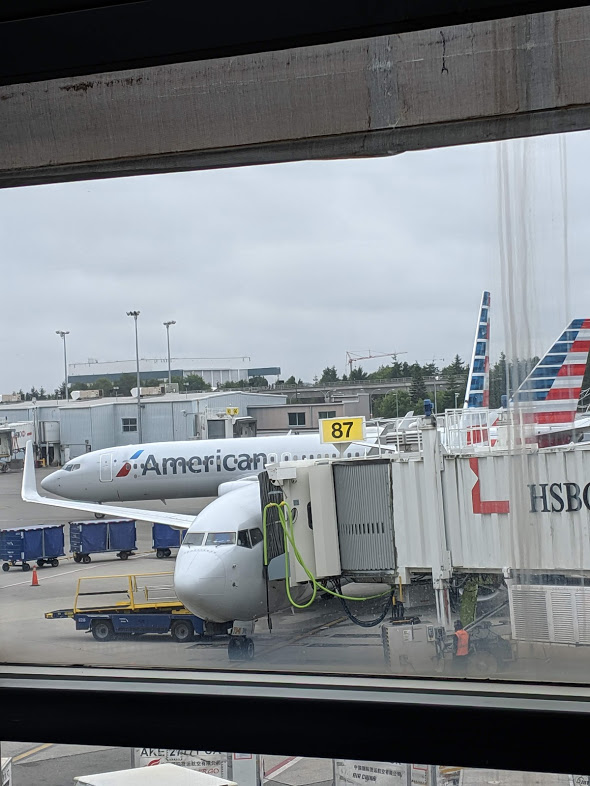 We didn't get out of Vancouver on time, but landed in Dallas close to on schedule. Unfortunately, there had been an earlier ground hold which had snarled operations at DFW Airport, and we ended up in a long conga line of aircraft waiting for a gate. The majority of the passengers were flying home after Alaska cruises and had connections in Dallas. They also weren't experienced travelers, so were properly freaking out. When we finally got to a gate, two angry Boomers behind me started trying to push past me while I patiently waited for a grandmotherly little old lady (she was easily 80 years old) to gather her things and shuffle into the aisle. "There is no rush that justifies running over a little old lady," I scolded them, while they scowled at me. "We have a connection!" they said heatedly. "Relax, it's probably caught in the same traffic jam we were."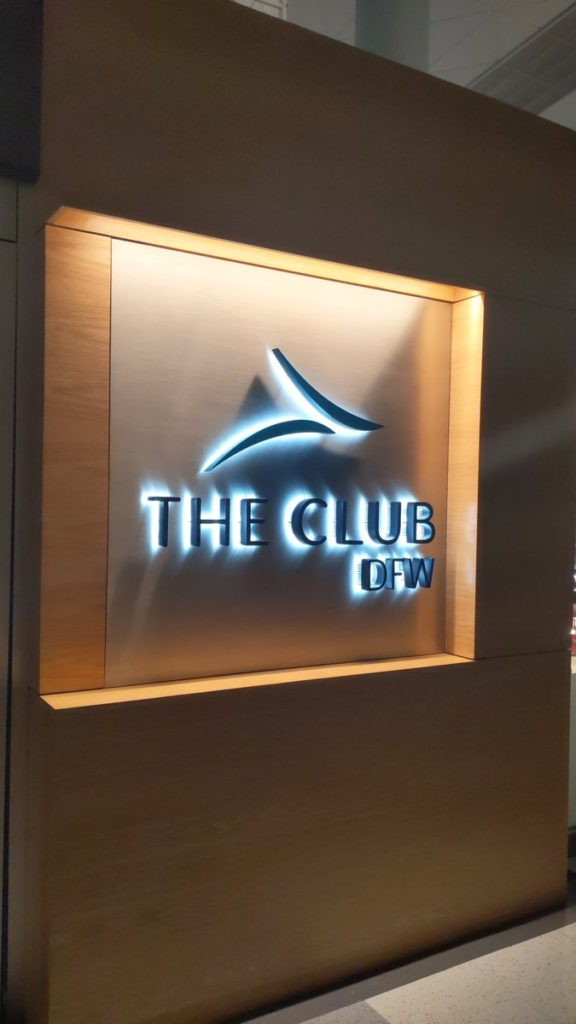 DFW Airport was a total disaster, with about half of the flights cancelled and a long line snaking across the airport to the two people working the American Airlines rebooking desk. American runs a generally unreliable operation with poor service recovery, so I was glad that I wasn't connecting to an American flight. The Qantas flight was running on time, so I stopped by The Club and DFW to grab a bite to eat (Qantas has a reputation for not feeding economy class passengers much, so I didn't board hungry). The club was over capacity but they were trying really hard to run a waitlist with a hostess service. Unfortunately, with seating spread across 3 different lounges and people coming and going frequently, the hostess was unable to keep up with the available seating. She eventually allowed me to register, then I got assertive about where I wanted to sit and she went along with it. The food wasn't as good as the Plaza Premium lounge in Vancouver, but I got enough to fill me up and was able to work on my laptop until boarding.
I had been automatically assigned a terrible middle seat so asked the gate agent whether any better seats were available, joking that I "wouldn't mind an aisle seat on the upper deck." These are expensive seats if you pay to pre-assign them, but also highly desirable, so I figured it'd be impossible. Much to my surprise, the agent handed me a new boarding pass. "Here you go, aisle seat, bulkhead row, nobody next to you. Enjoy!" I did a double-take but smiled and said "thank you!" The boarding pass did, in fact, say "UPPER DECK" so I turned right on the double decker boarding gate and headed to the upper deck.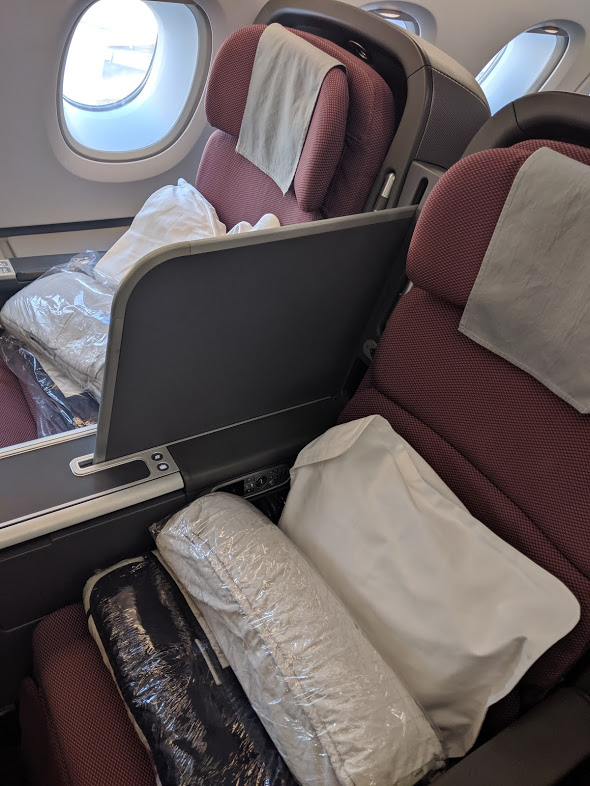 With pretty much every other carrier operating the A380, the upper deck is reserved for premium cabin passengers. Qantas operates a small upper economy class cabin, with a few rows of regular economy in a 2-4-2 configuration and the rest premium economy and business class. The premium economy cabin was almost empty, while the business class cabin appeared completely full. Being located in the bulkhead with no neighbor, and after snagging a couple of extra unused pillows, I was able to really stretch out for the flight (using my carry-on bag as a foot rest). It wasn't a lie flat seat, but was effectively a "ghetto business class" upgrade.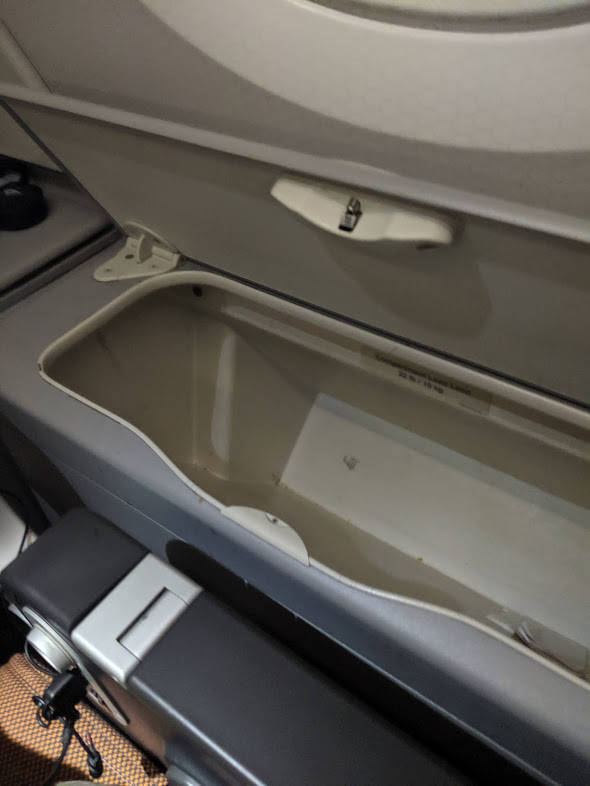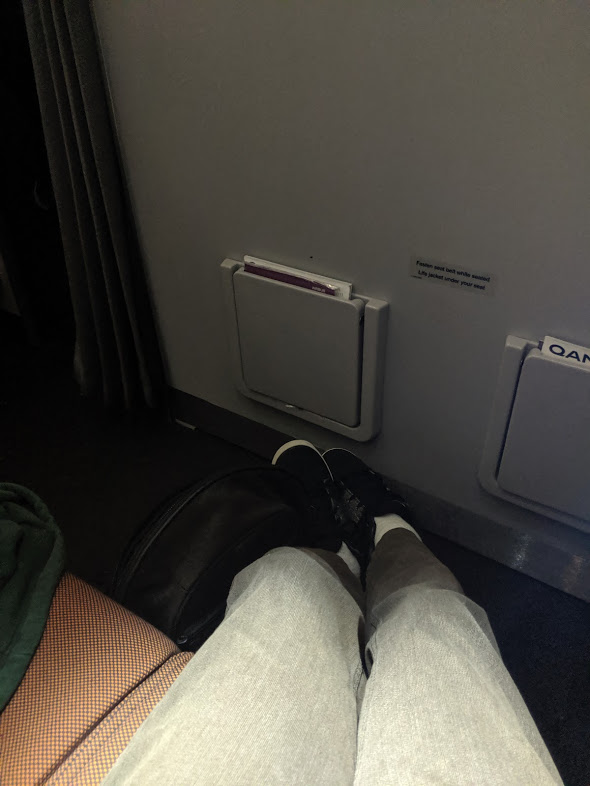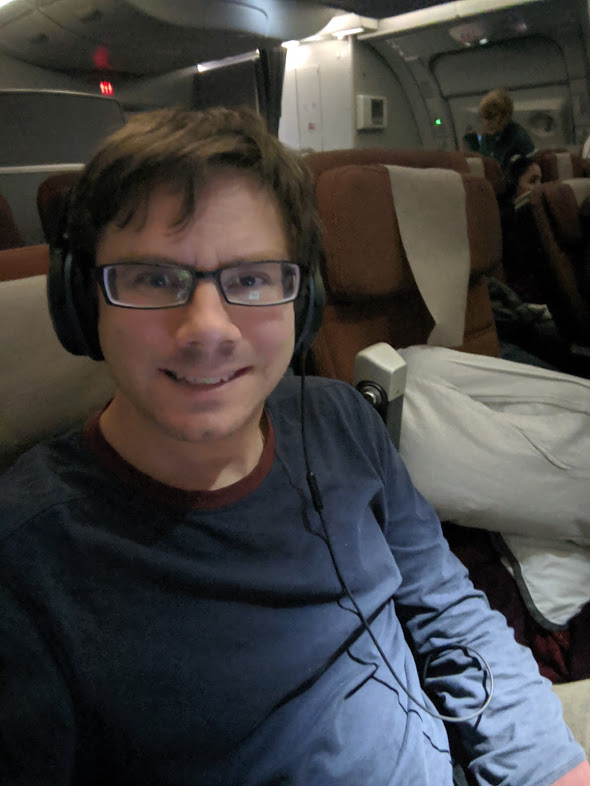 Dinner service started rolling out shortly after takeoff. Our flight attendants were taking care of both the premium economy and economy class cabins, and deftly juggled the different service offerings between the two cabins. There were three dinner options: cheese ravioli, chicken caccitore, and a flat iron beef salad with dried cranberries, feta and couscous. I had the salad, the least popular of the three options, but judging from the looks of the other entrees, it turned out to be the best. The flat iron beef wasn't anything to write home about, but it certainly wasn't bad, there was enough of it, and it mixed surprisingly well with the rest of the ingredients. The salad was accompanied by a very rich chocolate cake with cherry sauce. I thought it was too rich.
The menu mentioned that amenities were available, so I asked for an amenity kit. It contained a toothbrush with a small tube of toothpaste, eye shades and a pair of earplugs. Definitely not a fancy branded business class amenity kit, but certainly not bad either. After dinner I watched a movie, and then stretched out managing to sleep a solid 8 hours. I completely missed the midflight snack of a beef empanada.
I then started working on my laptop, which was easy with all of the extra space. I like to watch the moving map while I'm inflight, and noticed that the destination had changed to Brisbane. This probably meant that the flight was diverting, so I went back to the galley to ask the flight attendants whether they had heard anything. They were furiously getting breakfast ready, and one of the attendants gave me a surprised look. "Who told you we're diverting?" Their explanation was that the "captain couldn't get a proper weather report" and politely asked me to return to my seat because they had to get breakfast service out.
About 20 minutes later, the captain came on the PA system and explained what was happening. There was fog in Sydney. It wasn't clear whether we'd be able to land if we flew there, and given the long distance of our flight, there wasn't enough fuel to wait around in a holding pattern. So, we were going to land in Brisbane to take on some additional fuel, then continue onward to Sydney once we were able to land. The captain then described in detail Qantas' service recovery procedures. Nobody would be permitted to disembark in Brisbane, even passengers who were bound for there. Everyone would be rebooked onto new flights once we arrived in Sydney. The captain wasn't sure when we would get to Sydney, but he was guessing around 2 hours late.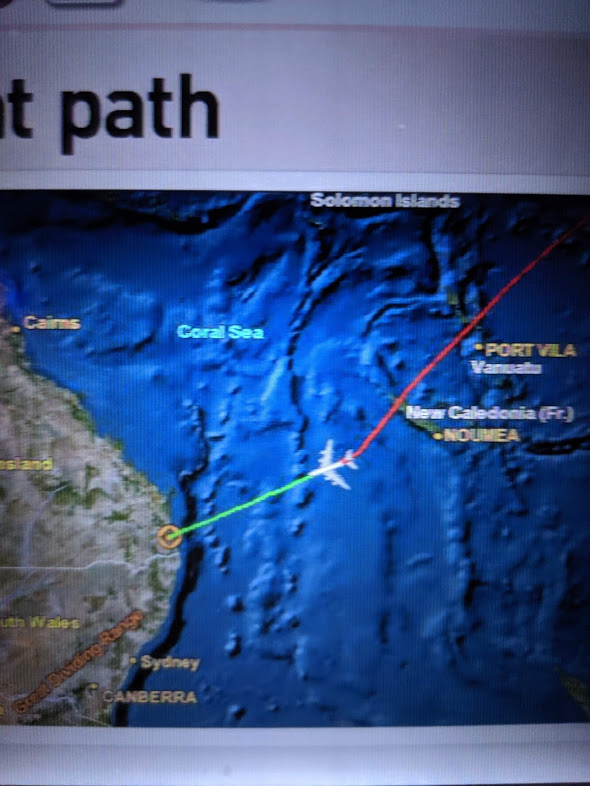 And then, 15 minutes or so later, the moving map updated our destination to Sydney once again, and I could feel the aircraft making a gradual left turn. 5 minutes or so later, the captain came back on the PA. "We received an updated weather report. The fog is clearing at Sydney airport, and we now expect that we'll be able to land, so we have decided to continue onward to there. We'll be landing around right around our scheduled arrival time, and should be on the gate shortly after that." So, no diversion after all which was just fine with me.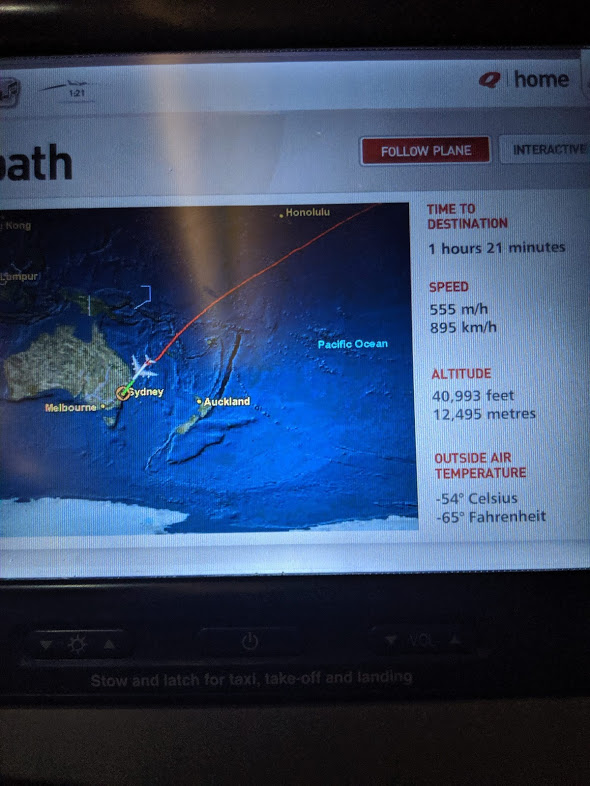 Sydney Airport is an absolute zoo. It's very much under-sized for the size of airport it is, and making matters worse, the immigration authorities have put kiosks all over the place to automatically check in the majority of visitors to Australia. The whole thing is laid out in a very poorly organized fashion – once you finish with the machine there's nowhere to go, because there are no marked pedestrian travel lanes. Making matters worse, the machines don't reliably work with US passports because our passports are printed off-center. This means that exiting via the automated passport gates often doesn't work, so you end up having to stand in line to check in with an immigration agent anyway. The one change this system has brought is that Australia no longer gives passport stamps. I asked for one, and the agent apologetically stated "we don't even have stamps anymore."
Wrap-Up
One of my guiding principles in travel is "if you don't ask, they can't say yes." If I hadn't asked about a NEXUS lane at YVR, I would have been stuck in line for an extra hour. If I hadn't asked for a better seat on my American flight, I'd have been stuck in the middle. If I hadn't asked nicely for a upper deck seat on Qantas, I wouldn't have gotten my very own bulkhead row. When you travel, don't be afraid to ask for what you want. Be nice about it, make sure your requests are within reason, and you might find yourself pleasantly surprised!