Coming from: Part 2 – Vancouver-Sydney on Qantas
Part 3 – Sydney to Perth
I had scheduled two spectacular days in Sydney and really made the most of them. Having gotten plenty of sleep on the flight, I was surprisingly ready to seize the day in Sydney and by staying up late, I was able to get my time zones adjusted with relative ease. I'll write more about what to do with a day (and change) in Sydney, but here's a quick taste: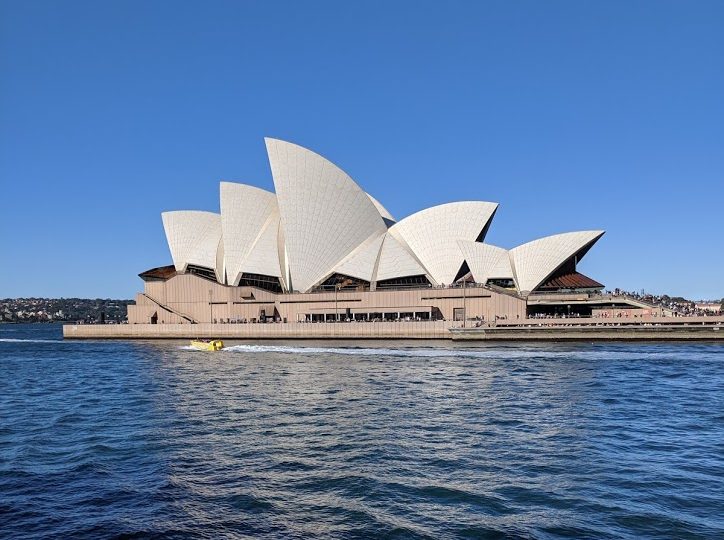 As it turned out, a friend of a friend was staying in the same hotel, so we met in the lobby for breakfast. He's a foodie from LA, and wanted to check out some of Sydney's famously pretentious coffee culture. I was happy to be along for the ride, so we ventured forth to Single O, which was within walking distance.
The coffee was, in fact, super pretentious and incredibly expensive, but it was also very good: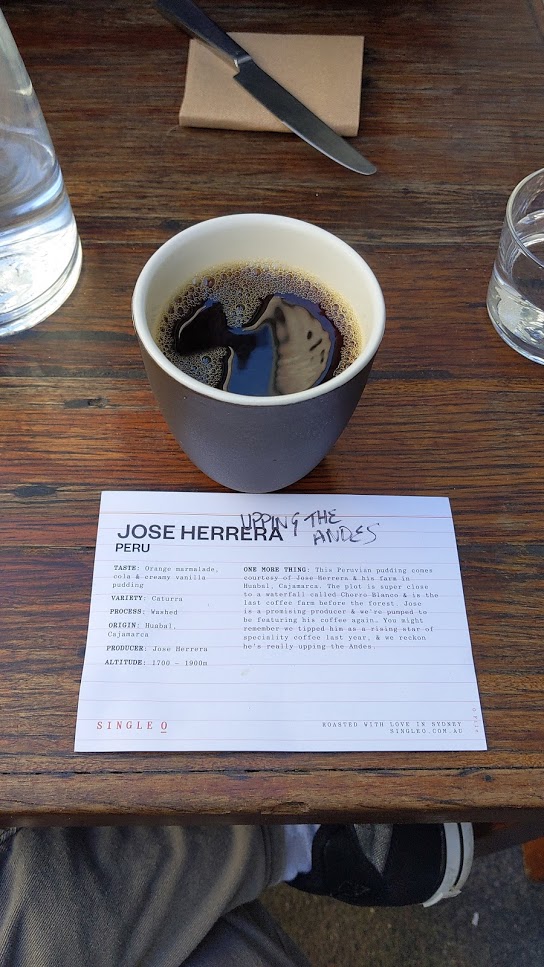 We parted ways after breakfast since I had shopping to do. My experience with small remote islands like Christmas Island has taught me that groceries are incredibly expensive and selection is incredibly limited. I considered going to Costco because it's the best place to buy American stuff abroad, but the logistics of getting there were too complicated (and I didn't need large bulk sizes of anything). There was an Aldi right around the corner from my hotel, and I figured that the prices would be competitive and they'd have what I needed. This was correct. Everything cost roughly double what it would at home, which is around the right price for things in Sydney (which is a very expensive city). I stocked up on items like soy milk that I knew would be hard to get on the island. Quarantine regulations are strict, even when traveling within different regions of Australia, so I stuck to packaged items (fresh fruits, vegetables and meats can't be brought into Australia or between Australian regions).
After that, I headed out for lunch, visited a local DJ shop, and went back to the hotel to retrieve my bags. Although I'd purchased a round-trip train and subway ticket, it turned out that the hotel had a shuttle bus to the airport which was both cheap and convenient. Instead of hassling with my luggage in the subway I just bought a ticket on that, and had no regrets.
My transcontinental flight from Sydney to Perth was on Qantas, an economy class award ticket I bought with 10,000 American Airlines Aadvantage miles. This was a fantastic deal, because cash fares are expensive on this route. Unfortunately, Qantas check-in wasn't entirely smooth. It looks sleek and modern, but because of the service flow, it ended up being a hassle. They use automated machines for everything, including checking in luggage, and they are very strict on baggage requirements. I checked in my bag, and then headed for security. It turns out that in Sydney, Qantas weighs your carry-on bags! My carry-on was slightly overweight, so the agent forced me to check it. Of course, my large bag was already checked in, so I couldn't shift weight into it. My assumption was that this whole thing was a setup to gouge me for bag fees, and I was prepared for an argument about being charged, but much to my surprise, Qantas didn't even try to charge me. The agent just pressed a button and I was easily able to check in my second bag through the machine. That was entirely fine with me; I didn't need or want to carry on my second bag, and the only reason I was doing so in the first place was to avoid bag fees.
Security was really, really fast, so I ended up in the domestic terminal much faster than I anticipated. I used my Priority Pass to get a snack and drink at Bar Roma. The AUD$36 credit didn't go very far at all due to the insanely high prices, but I was able to get a simple snack (an open faced sandwich) and a canned drink. Most Australian food is good, but this wasn't. Still, it was free, so it was hard for me to complain.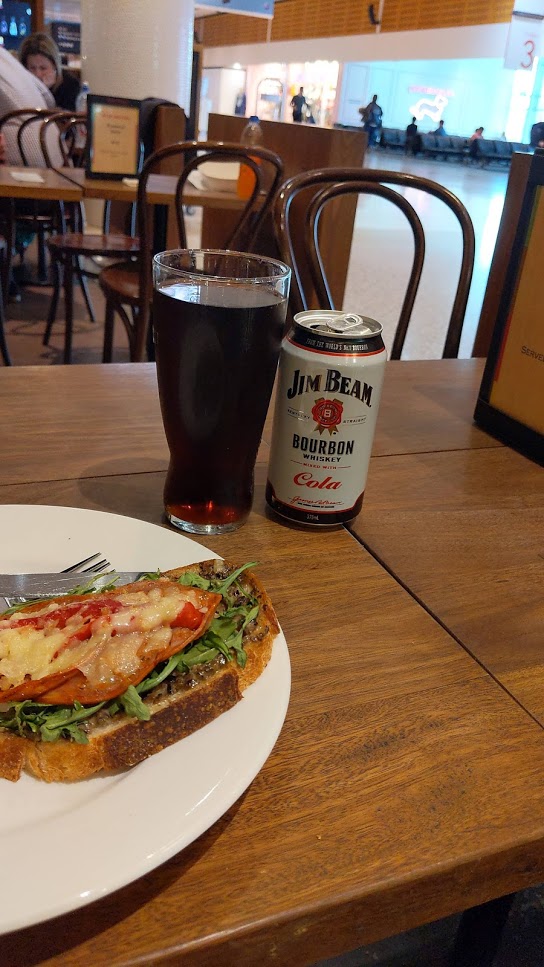 Even after having a snack and a drink, it was still early for my flight so I worked on my laptop for awhile until the plane finally arrived.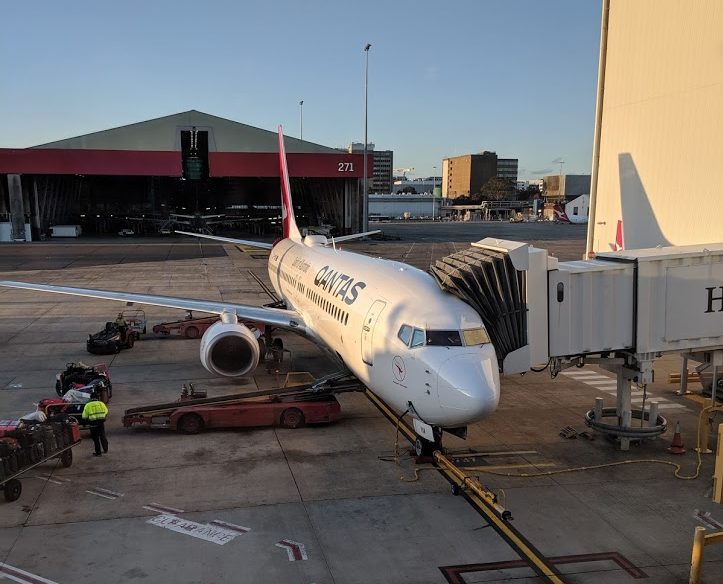 I hadn't lucked out as much with the seat assignment on this flight. Initially, I'd been assigned a middle seat. As soon as the gate agents took the podium, I asked whether there were any aisle seats available. There weren't. There was only one window seat, and it was all the way in the back. Still, for a transcontinental flight, this (barely) beat a middle seat.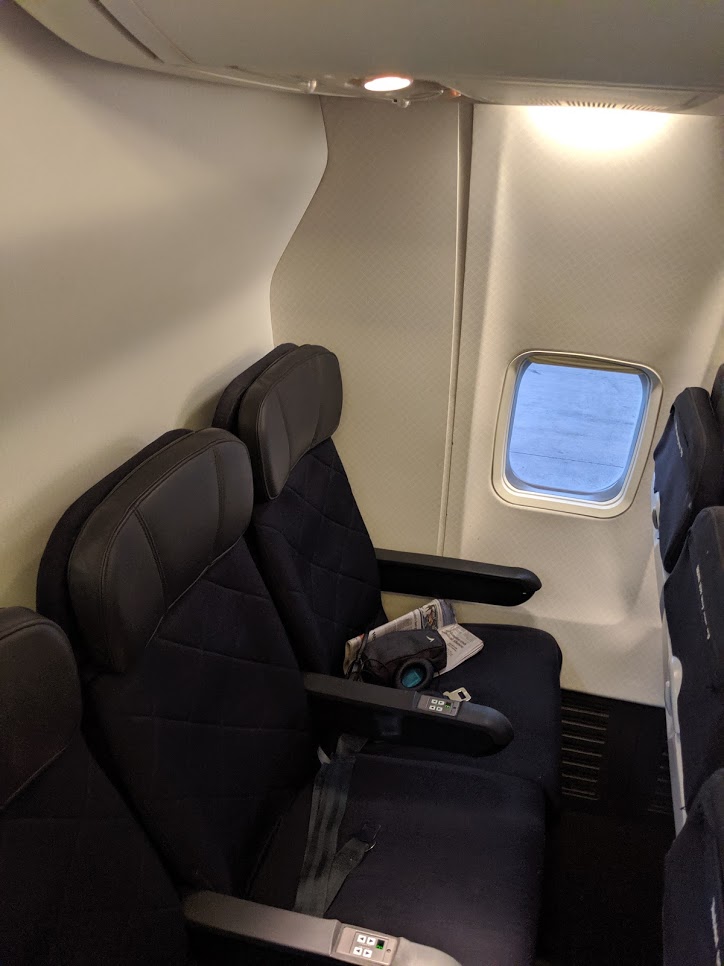 The seat didn't recline at all, but Qantas isn't using hard, uncomfortable seats yet. I am 5'7 so there was enough legroom for me with the 30″ seat pitch, but I have broad shoulders and felt a bit cramped on the 17.2″ seats. Taller people would have been considerably less comfortable. The flight was completely full with every seat taken, so it took awhile to load up and push back from the gate.
Qantas still provides meal service on long domestic flights, and this began not long after we were airborne. Unfortunately only the less popular of the two meal choices was available by the time the flight attendants got to us in the very back row. Unbelievably, Qantas serves chili on a plane! Here's what it looked like: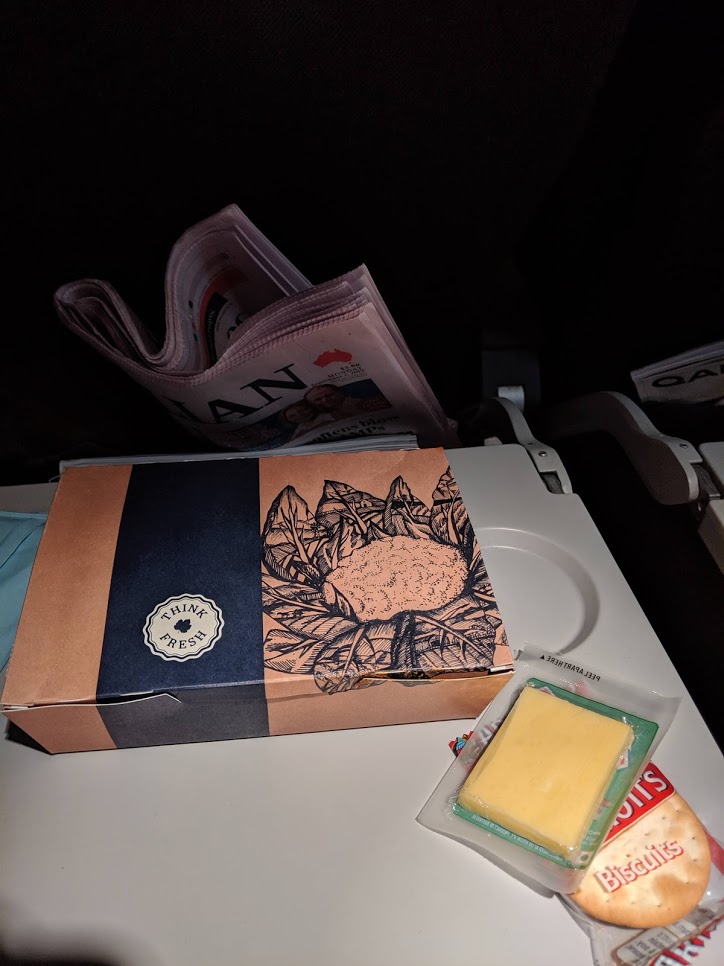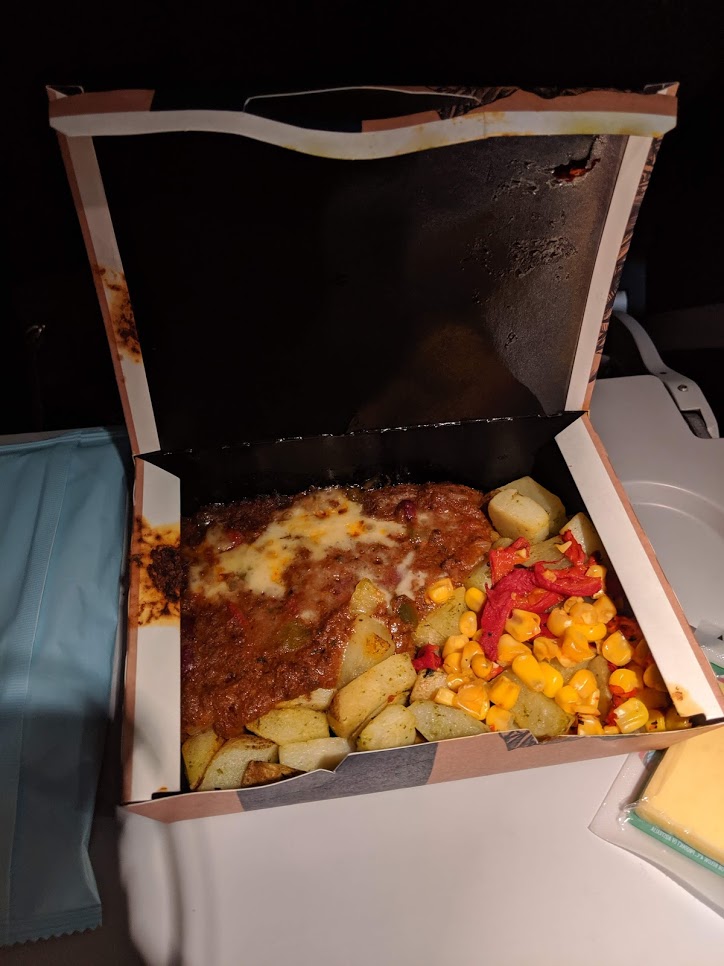 There was no Internet, and I can sleep pretty much anywhere. After the meal service, I listened to some music and napped for most of the nice smooth ride to Perth. Upon arrival, there were lots of signs warning about quarantine regulations but we weren't required to go through it. My checked bags came out without incident so I called my hotel and went outside into a chilly Perth evening to hop on the shuttle.
Wrap-Up
On award tickets, Qantas doesn't give you free seat selection. I never pay for seats, and just ask for a better one. However, this only works as long as a better seat is available. If the good seats are all taken, you can end up in a middle seat all the way in the back. Ultimately, though, this was OK with me. I got to my destination at the same time as people who paid far more, and I paid the least amount possible.