It is very common in the travel industry that airlines will partner with one another. Unfortunately, partnerships aren't always seamless and this can leave you paying more than you bargained for, and getting fewer benefits than you planned. Sometimes the issues are so sticky that even the best people at the airline you're paying don't know the answer.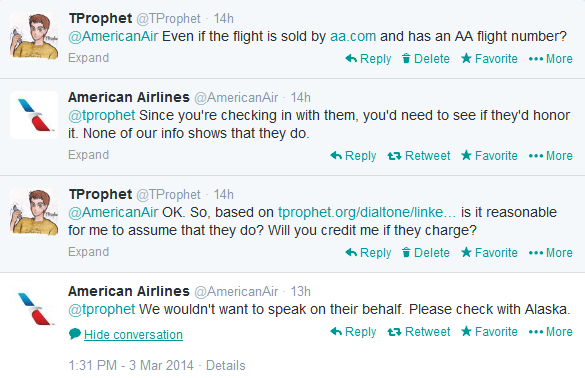 The answer to what, you might ask? Well, it's a question that ought to be pretty simple. I was shopping for flights last night on the American Airlines Web site (aa.com) and found a great deal for a flight from Long Beach to Seattle. I'll be in the Los Angeles area in May and although I wouldn't normally prefer to fly home from Long Beach, the fare was really exceptional: only $79! And, if you didn't look at the small print under the flight number, you might even reasonably think it was an American Airlines flight. After all, it's sold on the American Airlines website and there is an American Airlines flight number.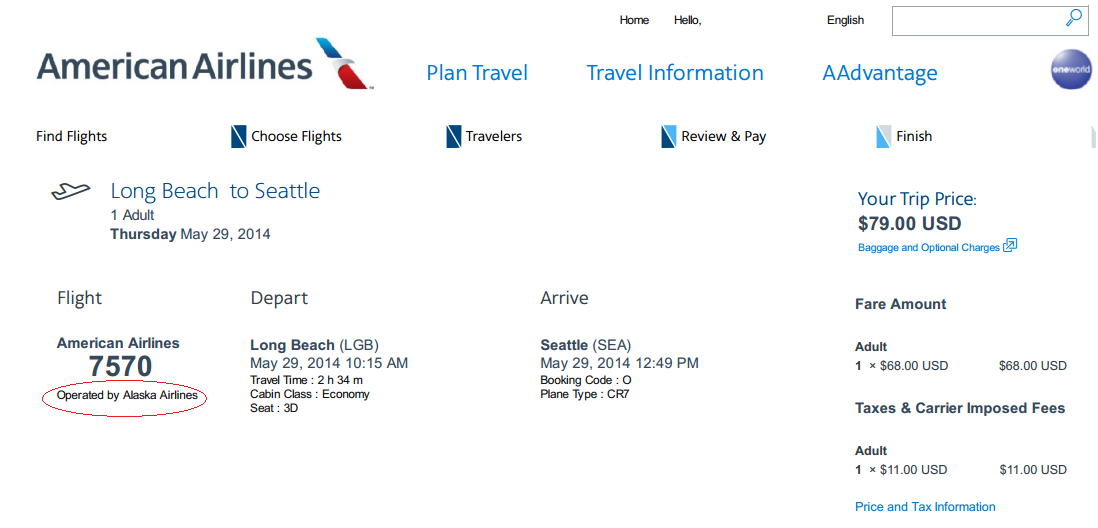 Better yet, since I am a Citi Aadvantage cardholder, that should entitle me to a free checked bag, right? After all, further down the page, there is a huge ad for the Citi Aadvantage card. It has a whopping $95 annual fee, one of the highest in the airline industry, but offers a fee waiver for the first checked bag.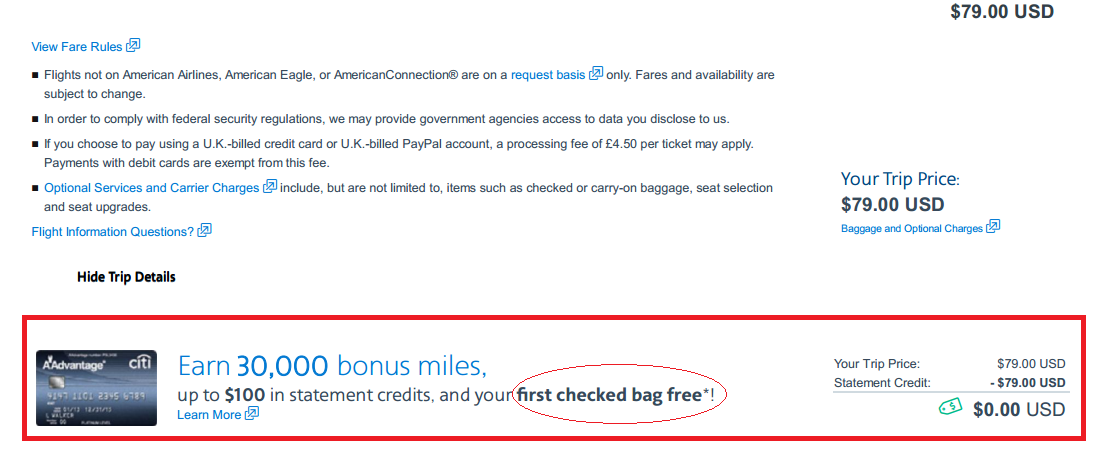 There it is, right on the page, first checked bag free! With that, probably every CitiAadvantage cardholder in the world other than me would make the logical assumption: you're buying a ticket on the American Airlines Web site, it has an American Airlines flight number, there's an advertisement from Citi and American Airlines on the confirmation page promising a free checked bag, so you're probably getting a free checked bag, right?
I went ahead and put the itinerary on hold (American Airlines allows you to place a 24 hour hold on tickets) and got the confirmation. Check out the confirmation page: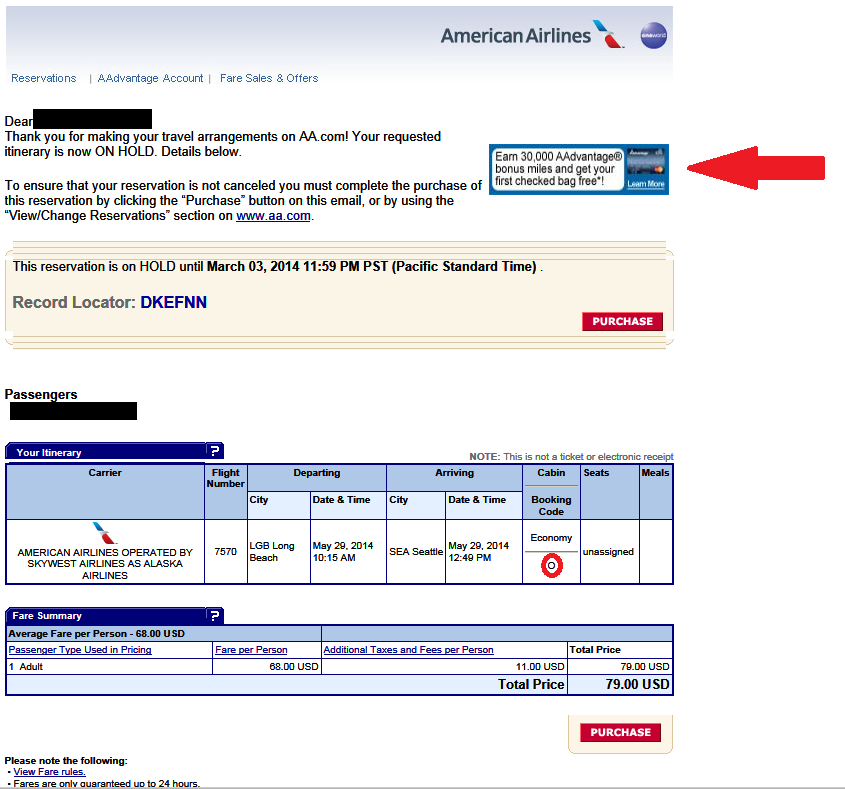 Right there up at the top in the right hand corner, well, what's that? An ad for the Citi Aadvantage Signature MasterCard, promising a free checked bag in exchange for their expensive $95 annual fee (almost double the fee of a Costco membership). So now on the AA.com front page, the AA.com sales page, and in the American Airlines confirmation email, American and Citi have promised a free checked bag. It's all right there, you can see it in the screen shots. So, do you think if you book this flight and you have a Citi Aadvantage Signature MasterCard you're getting a free checked bag? This isn't a trick question, take as long as you need.

No. Of course not. This suddenly isn't an American Airlines flight, it's an Alaska Airlines flight. Ignore all the ads you saw promising a free checked bag, you don't actually get that.
Well, if it's suddenly an Alaska Airlines ticket now, I should at least get Alaska Airlines Mileage Plan credit, right? Let's check with Alaska Airlines to find out:

Suddenly the flight isn't an Alaska Airlines flight after all. Remember back on the confirmation page where the fare class was shown?

You have to check these carefully, because the fare class is how airlines weasel out of giving you frequent flier credit for flights you book. This is an especially huge problem with codeshare flights such as the one that I reserved. If I had tried to claim Alaska Airlines Mileage Plan credit for the flight, I would have gotten a nasty surprise of no frequent flier credit to go along with the other nasty surprise of no free checked bag.
I am a reasonably expert traveler, the Twitter teams of both Alaska Airlines and American Airlines are among the best people working for both airlines, and it took all of us combined to figure out what I would actually get and how it differs from what is being promised. I am not normally a fan of government regulation, but there is currently too large a disconnect between what consumers are promised and what they are actually getting. The average consumer doesn't stand a chance.
In the meantime, what can you do? Don't assume that you're going to get anything that is promised and double-check everything. Also, consider credit cards other than the Citi Aadvantage Signature MasterCard. The "first bag free" promise doesn't measure up.