I'm returning from Bangkok after Songkran next year, and it's a long flight. Over the past two months, I just earned a ton of American Airlines AAdvantage points through generous credit card signup bonuses. However, no sooner had I earned them than the program started rapidly devaluing by moving to a dynamic award pricing scheme for flights on American Airlines. Given my lack of trust in AAdvantage at this stage, I decided to make burning these points a priority.
JAL recently started service to Seattle on their new 787, which is configured with Apex Suites (they brand it SKY Suites). And better yet, there was a more or less perfect itinerary returning from Bangkok which was bookable with AAdvantage points. Because it's a partner flight, it's also still bookable at the old (pre-devaluation) AAdvantage rates! So, using the brand new capability to reserve JAL flights on the AAdvantage Web site, I booked the flight.
With these seats, seat selection matters. Window seats in this configuration are much better and more private than aisle seats. So, I went ahead and called American Airlines to get the JAL confirmation code, which I then plugged in to the JAL Web site to pick seats. I was super disappointed to see the following maps: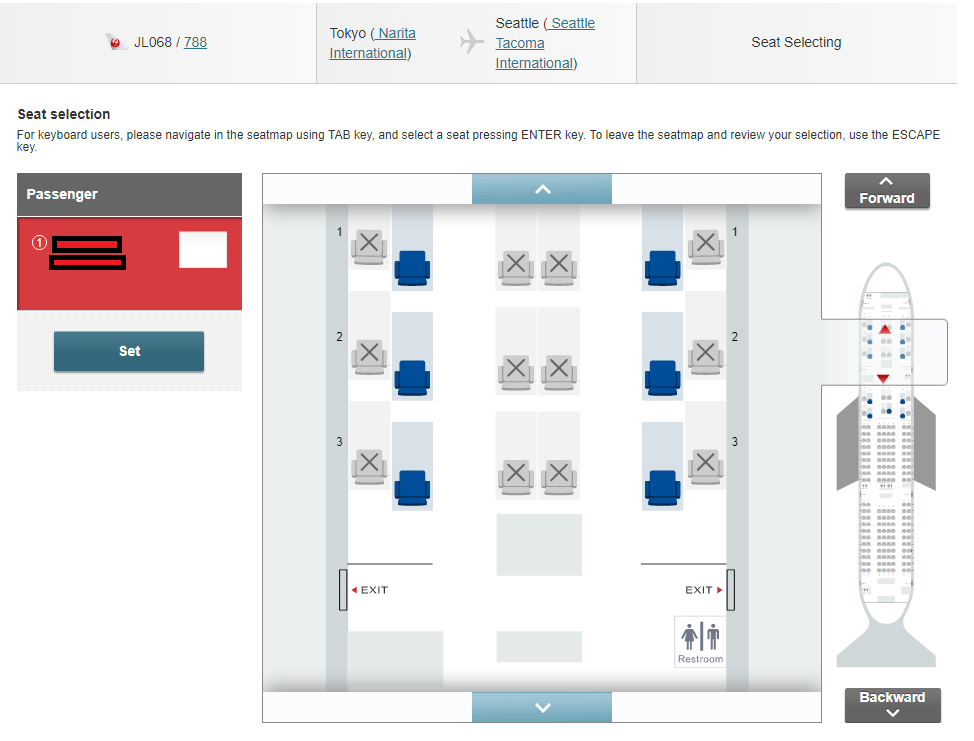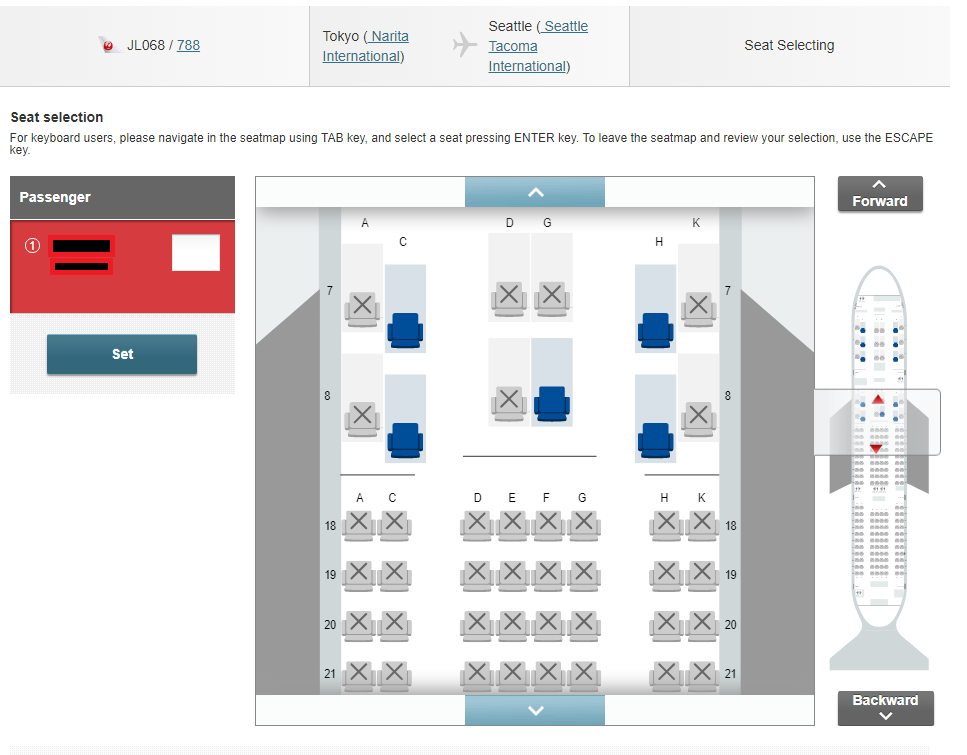 Only aisle seats were available to select. However, this didn't sit right with me. This is a brand new flight to Seattle, and April isn't exactly peak season to fly to Seattle. Who would be buying out every single good seat on the plane, in a premium cabin?
So, in a separate incognito browser window, I assumed my trusty alter ego of "Fo Do" and went back to the JAL site. This time, I was buying a flight, rather than assigning seats on an already ticketed flight. Lo and behold, when you're not booking a partner award but are buying a flight from JAL, the seat map is totally different: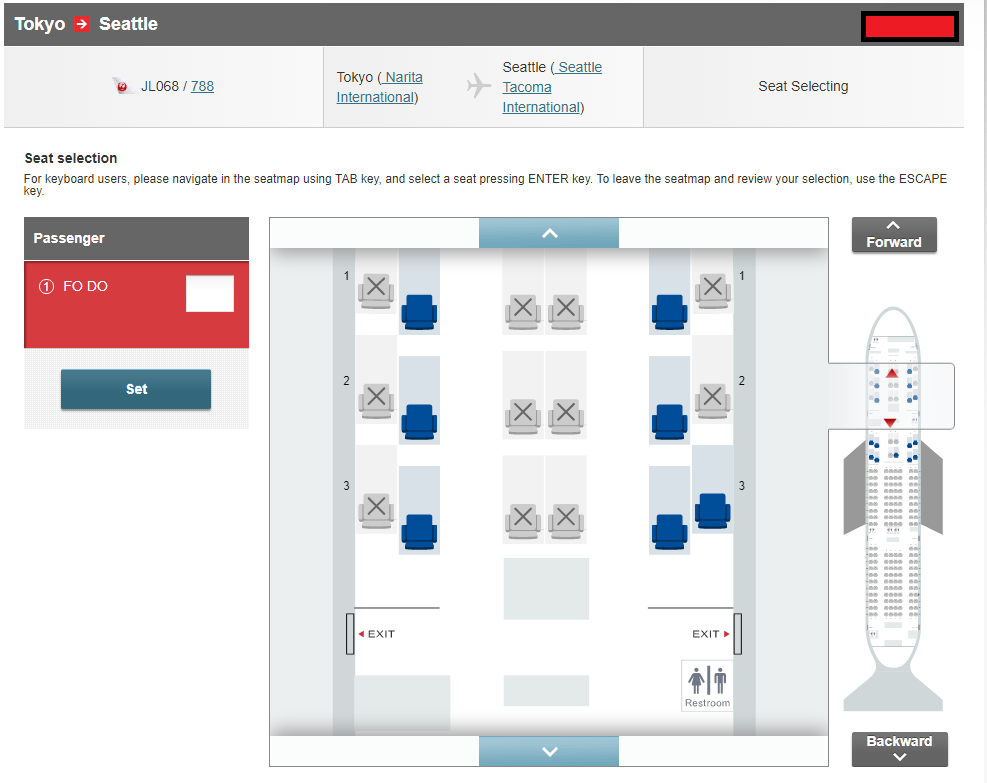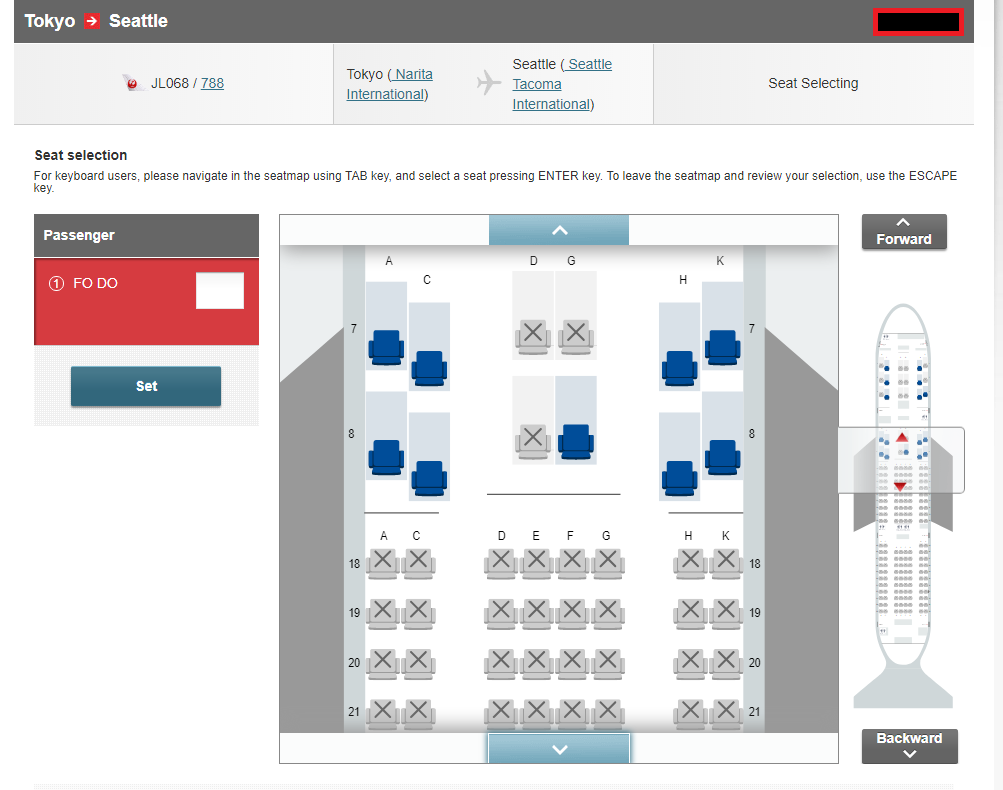 Exasperated, I took a note of all of the open seats (any of which would be acceptable) and called JAL. Naturally their US office was closed, so I called their Tokyo number and reached an astonishingly dishonest agent (I'm used to being lied to in many countries in Asia, but not in Japan). First the agent lied and said the first two seats I asked for were "under airport control." OK, fine, I gave him two alternates. These were "reserved for elites." OK, fine, I gave him the last alternate. "This seat is not available." Why isn't it available? "I'm sorry, it's not available."
The agent was clearly uncomfortable with the conversation, so I explained exactly where I was looking at the seat map, and that the seats were clearly available. So why, when I already have a ticket, am I not able to pick one of those seats? Was there possibly a technical problem? Might it be possible another way (in Asia, always provide a face-saving way for someone to solve your problem)?
Nope. The agent wouldn't budge. The seats weren't available and that's that. So I asked some very sharp questions. Is seat selection blocked for partner award tickets? For award tickets in general? And with that, I got a clear answer: yes, it's blocked by fare class. The only way to pick a window seat on an award ticket is to check in online 24 hours in advance and hope one is still there.
This is incredibly frustrating. I went out of my way to fly JAL, and paid quite a bit more, to enjoy the excellent SKY Suites experience. For me, it'll be considerably less excellent in an aisle seat.