I have never posted about a credit card on Seat 31B. I suppose there is a first time for everything. Don't worry, I haven't sold out and become a credit card salesman.
US Airways was acquired earlier this year by American Airlines, and has been slowly absorbed into American Airlines ever since. Its mileage program, Dividend Miles, is still a stand-alone program, although it will be merged with the American Airlines Aadvantage program early in 2015. So, if you have US Airways Dividend Miles, they will become American Airlines Aadvantage miles and the Aadvantage program rules will then apply.
It is all but a foregone conclusion that the Barclays US Airways MasterCard is going away when the programs merge, because Citi is the preferred card partner for American Airlines. However, it's still available and Barclays is running a special referral promotion. If you are referred by an existing cardholder, you can receive 50,000 miles on your first purchase. This is enough for a round-trip winter ticket to Europe in Seat 31B with miles left over. It will also get you two roundtrip tickets within North America, or a ticket to Hawaii or South America with miles left over. There is an $89 annual fee that is not waived. This is much better than the usual offer of 40,000 miles after spending $3,000.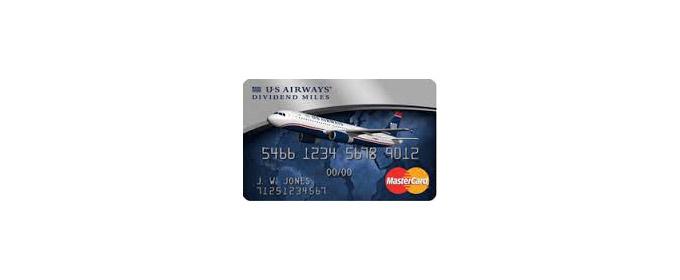 $89 plus the cost of a pack of gum definitely isn't a bad price for a round-trip economy class ticket to Europe. So, I'm comfortable recommending this deal. It doesn't come with the pitfalls common to most other credit card offers, which are rife with tricks and traps. You get a few other perks for your $89 annual fee, including a companion fare certificate good on US Airways flights, a free checked bag on US Airways, and priority boarding on US Airways. I'm not sure what will happen to these benefits when US Airways disappears as a brand, so I'm not assigning a whole lot of value to them. If you plan to use the companion fare, I recommend that you book it as soon as you receive the certificate.
Overall this isn't a bad credit card, except for the annual fee (you won't want to keep it for more than the first year) and the very high APR. The general Flyertalk consensus over Barclays customer service is that it is terrible, but I deal with them exclusively online and haven't had any problems. The trouble seems to come from calling them; telephone customer service is rated inconsistent at best.
If you want the card, I will be happy to send you a referral link. Just contact me from the email address where you'd like the link sent, or leave a comment below with your email address (note I moderate all comments and won't publish these requests, so your email will remain private). My email address is tprophet [at] seat31b.com. In the interest of full disclosure, I will receive 5,000 bonus miles if you sign up for the card through my link. So, if you want to share this offer with friends, please don't forward the email but have them contact me directly so I also get the bonus for referring them.
Unlike the links you'll find on other blogs (which pay bloggers actual money rather than a paltry few extra bonus miles), this is–to my knowledge–the best currently available offer for this card. It's also a (relatively) quick and easy way to earn enough miles for a trip to Europe for less than $100, giving it the Seat 31B seal of approval.
This offer expires January 18, 2015.