Despite rushing to pack, I arrived at Sea-Tac Airport about 2 1/2 hours prior to departure. This was plenty of time to make my flight. Although I'd checked in online, there was no opportunity to enter my known traveler number so I didn't have a Precheck boarding pass (fortunately, just having bought a one-way ticket 4 hours before an international flight, it didn't have SSSS either). Having Precheck saves a lot of time in Seattle, but if there is a long queue for the check-in counter, it can take longer to get your boarding pass straightened out than it does to just go through the regular security line.
Happily, there was almost no line and I was cheerfully checked in by a SkyPriority agent. I appreciate that Air France has their SkyPriority agents take customers out of the regular queue when there are no SkyPriority passengers waiting; not all airlines do this. The agent hadn't seen a NEXUS card before so initially entered the wrong number, but I gently corrected her and she was really nice about it (I'm used to airline employees insisting they're right and going on power trips when they make a mistake, so I really appreciated the lack of ego).
Armed with a TSA PRECHK boarding pass, I was ready to do battle with the Precheck line. Fortunately it was a total breeze. Nobody was waiting, and I got right through. Continuing my amazing streak of airport luck, I was able to get into the new Alaska Airlines Terminal C lounge with my Priority Pass. They initially tried to deny me access, but I mentioned that their sign automatically denying access wasn't out, and they relented and let me in. The lounge has a smart design but I was surprised to find the furniture very dirty (it badly needs to be steam cleaned). The new lounge also looks a lot bigger in pictures than it is. The food selection was similar to that available in the older Terminal D lounge, except somewhat more limited. The pancake machine runs 24 hours (unlike in the other lounge) but there aren't cheese cubes or vegetables (which the other lounge has). The planespotting opportunities were very good for the aviation geek, though; I not only saw the incoming Air France flight on the taxiway, but saw an incoming Prime Air flight as well. While lounges are very much an optional experience for me anyway, I won't go out of my way to return to the "new" Alaska lounge if the "old" one is more convenient.
So far, so good, then. Flying Blue had advanced me the points to get on the flight in the first place, check-in was friendly, and I managed to talk my way into a lounge that was hard to get into. Although I have had some really great adventures on Air France (including a flight to South Africa in economy class and an "island hopper" adventure to Cayenne, French Guyana via Port au Prince, Guadeloupe, and Martinique) I haven't flown Air France in a couple of years. My last flights with them were on an A380 out of LAX in their "old" economy class which was a pretty comfortable experience overall. In light of this I was excited to try their "new" economy class.
Remembering my recent trip to Beijing, I left the lounge 25 minutes before the boarding cut-off. I'm never eager to get to the gate earlier than necessary on long international flights, because checked bags are free so there is usually plenty of overhead bin space. The Terminal C lounge is right next to the airport subway, but you have to change trains twice in order to get from there to the south satellite (from which most international flights depart). The waiting time isn't super long in between trains and you're not on them for a long time, but it does add up and it took me a full 15 minutes to get to the gate. Fortunately there was no problem; Air France had just finished with premium cabin boarding and was beginning to board the economy class cabin (where I was in the last boarding group). An agent came by and checked my passport, and I was on board the tired old 777-200 operating our flight. The crew was a very senior French crew, and Parisian in demeanor. This is like a New York based senior crew with a US airline; somewhat abrupt, but also generally efficient. I was directed to my seat, in a row right behind a bassinet infant who wasn't super happy to be on board. I stashed my luggage, and I was just getting ready to sit down when I spotted something amiss.
There was puke on my seat.
It had been mopped up by the previous occupant with napkins or something, but there was definitely leftover barf on the seat belt and seat. I didn't sit down, but stood to the side and when the aisle was clear, I walked up to the galley explaining what happened, and asked for cleaning supplies. Of course, this isn't actually what I expected to get–usually a flight crew will first verify that your story is true (totally was in this case, the barf was plainly visible) and will then find somewhere to reseat you–even an op-up if needed–taking the dirty seat out of service. Not this crew! I got exactly what I asked for–they expertly put together a vomit kit for me, and handed it to me. Well, all right then. I went back and scrubbed the seat (hoping there wasn't norovirus involved, because there unfortunately weren't any rubber gloves). A flight attendant shortly thereafter stopped by, checked my work, took the supplies back and gave me a cover for the seat (because at this point it was wet). I went up to the lavatory to thoroughly scrub my hands, and another flight attendant said "wait here a minute." A couple of minutes later she returned with a business class amenity kit as a gift, which I think was a pretty nice gesture all things considered. This is probably more than I would have gotten on United, but the response on a Japanese carrier would have been one bordering on shock and horror accompanied by profuse apologies and more or less bending over backwards to find me somewhere else to sit. There is a happy medium somewhere, and that's not what this was.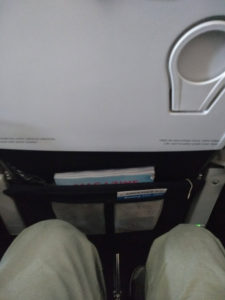 The good news is that when I went back, the middle seat next to my assigned seat had remained empty. So I just moved over and took that seat. Unfortunately, the "new" Air France economy class cabin is tight. It's not quite as tight as Lufthansa, but unlike I have experienced on Lufthansa, the seat was heavily worn and uncomfortable. It was so hard my butt was numb 2,000 miles into a 5,000 mile flight (I'm a middle aged guy with an average build). The seat pitch also makes it really hard to work on a laptop (although there was seat power); I'm 5'7″ and there was only about an inch between me and the seat in front of me. Also, in the row where I was sitting, the seats were in a staggered configuration and there was an annoying support post in the middle of my legroom (although to be fair, this isn't nearly as bad as the personal entertainment boxes that often steal your legroom in economy class).
I hadn't eaten much lunch in the lounge (I just had some soup and salad) so I was ready for dinner, which I knew would be served onboard. My previous experiences with Air France involved surprisingly good economy class catering – I mean, it's the national airline of France, so there would be good quality French cuisine, right? I also remember being fed a pretty large meal on my previous flights. Unfortunately, all of that has changed. There were two meal choices, chicken or pasta. I'm glad I got the chicken because the pasta was small and didn't look filling. Still, the chicken was just pieces of chicken breast (not an entire chicken breast, more like half of one) in a white gravy. It was bland, and served with rice. Apart from that, there was a disgusting and inedible lentil salad, a piece of cheese, a tiny piece of coffee-flavored cream cake, and some unsweetened applesauce. I have seen more appealing high school cafeteria lunches, and Air France's economy class catering is about on par with United. SkyTeam airline Xiamen Air had much better food catered out of Seattle, and Air France's partner Delta does a much better job with catering as well. The one thing I will say for Air France is that they have a better selection of alcohol than either airline. You can still get brandy in economy class! It's probably a usual complaint on planes to say "the food was lousy and there wasn't enough" but that's exactly what this was. Some crackers with spreadable cheese and a green salad would have rounded out the meal.
Breakfast served before landing was equally unmemorable. Instant coffee, a container of canned fruit, a container of orange juice, some plain yogurt, a bread roll and a sweet roll. The sweet roll was hot, but it tasted like one of those canned Pillsbury cinnamon rolls that you heat up in the oven–you know the overpoweringly sweet, chemical, plastic taste. Overall, my thoughts on the breakfast were "how American" and that pretty much sums it up. I'd totally have expected something like this if I were flying United in economy class. A croissant is apparently out of order on a French airline.
While there is (surprisingly) no inflight WiFi, Air France does have good quality inflight entertainment. Although the economy class seats aren't very comfortable, they're equipped with large new, LED displays with a full complement of inflight entertainment (a new computer system runs this and it's really very good). This is one area where Air France is markedly better than United's old 777-200s and their tiny seatback displays. Of course, I spent most of the time watching the "moving map" – my usual go-to entertainment on planes.
WRAP-UP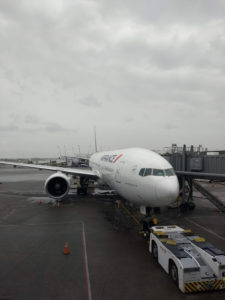 Overall, would I fly Air France economy class again? For 25,000 miles (particularly ones that aren't even in my account yet), to an expensive destination, at the last minute, sure! I'm always happy to take the last seat in the plane if it's free. For money, though? I wouldn't go out of my way to fly Air France versus other options from Seattle to Europe, and I certainly wouldn't pay more. I think Delta wins overall here, and they still fly nonstop to Amsterdam. British Airways often has much better fares and they offer a very similar inflight product, service attitude, and connecting airport. Icelandair and Condor aren't full service airlines, but are also generally a lot cheaper. Norwegian, an ultra low cost carrier, has ridiculously low fares. For a full service European carrier, Lufthansa has better (and more) food and the service, which while very efficient (in a very German way), is also surprisingly friendly. This is, however, balanced out by the very tight configuration in their economy class cabin, which is even more uncomfortable than Air France.