Delta Air Lines has been battling Alaska Airlines for market share in Seattle. Both airlines are running double miles promotions between Seattle and West Coast cities where the two airlines compete. However, it's important to read the fine print (which, to Delta's credit, is reasonably clear). As I discovered yesterday, double miles offers could be only as lucrative as the initial segment.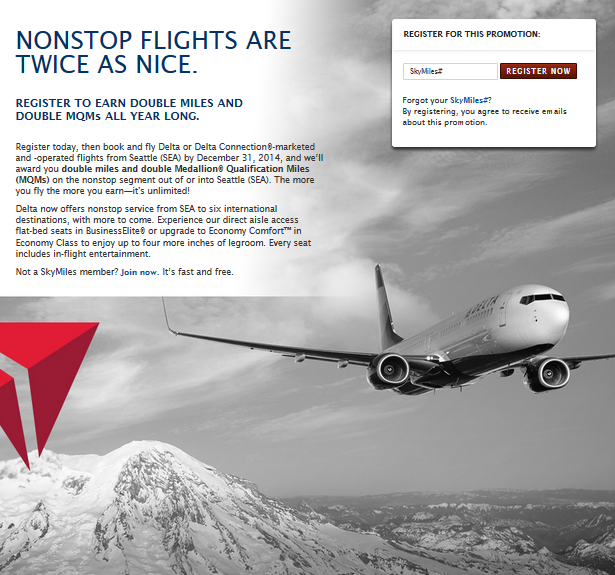 I had booked a flight between Seattle and Los Angeles via Salt Lake City, and traveled yesterday. Since I registered for the promotion several months ago, I didn't remember the details. Disaster! I was surprised to see that when the flights credited to my account, I only received double miles for the Seattle to Salt Lake City portion, and I received only regular mileage credit between Salt Lake City and Los Angeles (note that although Alaska Airlines is now competing with Delta Air Lines on routes from Salt Lake City, Delta apparently doesn't take the threat very seriously and is not offering a double miles promotion in these markets).
It's worth pointing out that Delta is delivering exactly what they have promised here. I just failed to carefully read the fine print. For what it's worth, I also failed to read the fine print a month ago on an Alaska flight from Long Beach to Seattle. Contrary to my expectations, I received only ordinary mileage credit even though Alaska Airlines is offering double miles to Seattle from every other Los Angeles area airport. Long Beach isn't on the list.
Mileage promotions come and go, and Alaska and Delta aren't the only airlines with promotions requiring registration. If you do register for a promotion, read the fine print! Otherwise you may be in for a nasty surprise when you view your statement.